The Baltimore Ravens would like to add another receiver to the mix. They released Derrick Mason last week but are still interested in signing him back. Malcolm Floyd is a free agent from the San Diego Chargers and has drawn some interest from the Ravens. Both are solid players but which one will the Ravens sign.
Continue reading to find out more…
MALCOLM FLOYD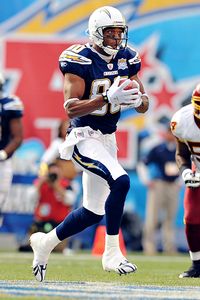 The Ravens have a strong interest in WR Malcolm Floyd. Floyd has found success with the San Diego Charger but is now testing the free agent market. The Ravens have reportedly offered him a deal and are now waiting for him. He would definitely be an upgrade over Derrick Mason but a lot of other teams are also interested in him.
DERRICK MASON
Derrick Mason is 37 years old but has still shown that he has the ability to play at a high level. He is visiting the New York Jets today and is expecting to sign with them pending a physical. He would be reunited with head coach Rex Ryan, the Ravens former def. coordinator, and look to help out their passing game. He has also talked with his former team, the Tennessee Titans. If the Jets do not sign Mason and Ravens do not get Malcolm Floyd, expect him to come back to Baltimore. As of now, it looks like he will be a New York Jet.
Please follow us on Twitter and like us on Facebook for all news, NFL and Ravens.
Tags: Baltimore Ravens Derrick Mason Malcolm Floyd San Diego Chargers Wide Receiver