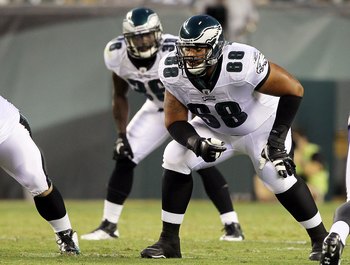 Offensive tackle Austin Howard is now on the Baltimore Ravens practice squad. The former Philadelphia Eagle was cut by earlier this week despite playing in four games last year. Howard is a young and inexperienced player but he definitely has potential.
Given the questions surrounding the Ravens offensive line, any depth added definitely helps. With two older and injury prone guys in Matt Birk and Bryant McKinnie, you can never be too safe. If one guy goes down, the game of musical chairs begins and guys start to shift all over the place. Some extra insurance never hurts.
Please follow us on Twitter and like us on Facebook for all news, NFL and Ravens. Also, make sure to +1 our articles!