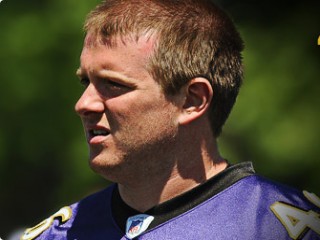 Long snappers are the ultimate unsung heroes of the sport of football. Their job is simple, snap the ball to the punter/kicker and let him do the magic. If your name is not well known, than your doing your job well. Ravens LS Morgan Cox stakes an unnusual step into the spotlight as the recipient of the Ed Block Courage Award.
After tearing his ACL and MCL during a game against the Cleveland Browns last season, Morgan Cox played through the excruciating pain and finshed the game. Since NFL teams are allowed only one long snapper on the active roster, the only available replacement during that game was runningback Willis McGahee. Cox's willingness to play through the pain not only shows his courage, but his love for the sport of football.
Please follow us on Twitter and like us on Facebook for all news, NFL and Ravens. Also, make sure to +1 our articles!