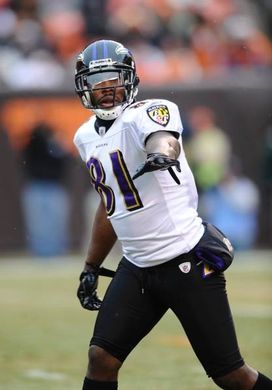 Baltimore Ravens wide receiver Anquan Boldin will have knee surgery today to repair a slightly torn meniscus in his knee. Boldin will miss the final two games of the regular season against the Cleveland Browns and Cincinnati Bengals but will be able to return for the playoffs.
Rookie Torrey Smith and veteran Lee Evans will take over the top two receiver roles and the number three spot will go to either LaQuan Williams or Tandon Doss. Both Williams and Doss are also rookies who will have to step up big time just as Torrey Smith has. Besides a few drops, Smith has looked nothing like a rookie this season totaling 770 yards and 7 touchdowns, breaking a Ravens rookie touchdown record. Tandon Doss or Laquan Williams will need to step up big time in order for the Ravens to be successful through the air. This receiving corp is one of the youngest in the league and losing a veteran like Anquan Boldin is never something you want to hear.
Because of Cleveland's stout secondary, John Harbaugh and Cam Cameron will likely fall back on the running game and give Ray Rice a high dosage of carries against a weak Browns run defense. It worked in their first matchup three weeks ago when Ray Rice ran for a career high 204 yards.
Losing Anquan Boldin does not only take away an extraordinary player but also a leader. While the absense of Boldin will surely be felt by the team, the Ravens are a very talented team and should be able to manage without him.
Heading into the final two games of the season with a first round bye on the line is the worst time for Anquan Boldin to take an arrow to the knee. (Sorry, I couldn't help myself)
Ebony Bird is giving away a free HTC Rezound. Click here for more details concerning the giveaway. Anyone can win!
Please follow us on Twitter and like us on Facebook for all news, NFL and Ravens. Also, make sure to +1 our articles!
Tags: Anquan Boldin Arrow In The Knee Injury Knee Surgery Ravens