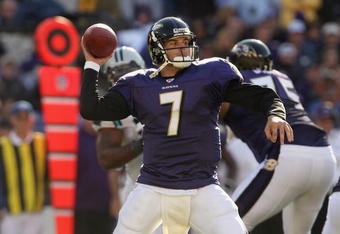 Dare I say it, but Kyle Boller may be in a Ravens uniform again. NFL Network's Jason La Canfora is reporting that the Ravens will work out Kyle Boller and former Steelers quarterback Dennis Dixon on Thursday. Additionally, the Ravens are also suspected to bring in former Indianapolis Colts quarterback Curtis Painter.
Kyle Boller will be remembered in Baltimore as a massive failure. A first round pick in 2003, Boller was expected to become the Ravens' first franchise quarterback but failed to live up to expectations as he struggle with injuries and churned out too many turnovers. While he showed flashes of success here and there, the majority of Ravens' fans were delighted to see him released after the 2008 season.
Since then, Boller has spent the last three seasons as a backup for the Rams, Raiders, and Chiefs where he showed little to no improvement.
If the Ravens choose to sign any of these backups, they'll battle with second year Tyrod Taylor for the position.
Please follow us on Twitter and like us on Facebook for all news, NFL and Ravens. Also, make sure to +1 our articles!
Tags: Baltimore Ravens Joe Flacco Kyle Boller Nfl Free Agency Tyrod Taylor