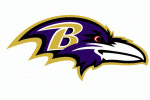 17. Baltimore Ravens
Eric Ebron
Tight End, North Carolina
The Ravens have a serious need at the wide receiver position. However, with Eric Ebron on the board at 17 would be a steal for the Ravens despite Dennis Pitta signing a five year extension. Ebron and Pitta give Joe Flacco two weapons to utilize and take the pressure off of the running game that disappointed a season ago.