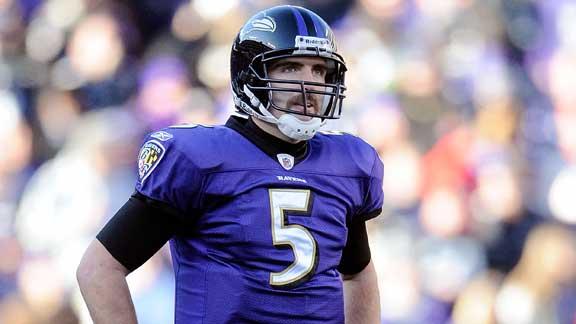 Joe Flacco is without a doubt the most scrutinized player in the NFL today. While his large list of accomplishments during his first four seasons should more than suffice, Flacco still cannot get rid of the title of "game manager."
With a win tomorrow, Joe Flacco will become the first quarterback in NFL history to win 50 games in his first four seasons. That's an average of over 12 wins per season. For those that insist that the defense has carried him through those wins, take a look at his stats. While they aren't mind blowing numbers like Tom Brady's or Aaron Rodger's, he's played at a level far above the rest of the league. His career passer rating is a solid 86.0 and he's completed 61% of his passes. He's shown us that he can conduct 4th quarter comebacks against the best and has stepped up when he's needed to. Simply put, Joe Flacco has done what many young quarterbacks have been unable to, win games.
It's mind boggling how some don't see that Joe Flacco has the "it" factor. He's hitting receivers in the numbers 40 yards down the field and putting the ball where the defense can't get it. These receivers aren't throwing the balls to themselves. Flacco has been getting the job done but people still fail to notice.
The Baltimore Ravens would not be in the AFC Championship if it wasn't for Joe Flacco and every member of the Ravens organization can attest to that. Flacco has not only won 12 games this season, he's led his team to 12 wins this season. If Joe Flacco has the ball in his hands at the end of the game, I'm 100% confident. Why? Because I believe in Joe Flacco. I've seen what he can do, and I believe he can keep up with the best of them.
Please follow us on Twitter and like us on Facebook for all news, NFL and Ravens. Also, make sure to +1 our articles!
Tags: AFC Championship AFC Championship Patriots Ravens Baltimore Ravens Joe Flacco NFL Quarterback