Ravens Vs. Raiders: A Conversation With Just Blog Baby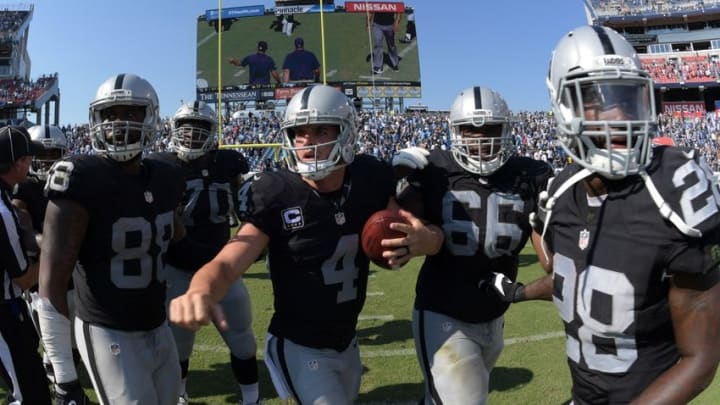 Sep 25, 2016; Nashville, TN, USA; Oakland Raiders players Clive Walford (88), Kelechi Osemele (70), Derek Carr (4), Gabe Jackson (66) and Latavius Murray (28) celebrate after defeating the Tennessee Titans 17-10 at Nissan Stadium. Mandatory Credit: Kirby Lee-USA TODAY Sports /
Sep 25, 2016; Nashville, TN, USA; Oakland Raiders head coach Jack Del Rio (C) walks off the field after defeating the Tennessee Titans17-10 at Nissan Stadium. Mandatory Credit: Jim Brown-USA TODAY Sports /
Is This A Get Right Game For The Raiders Defense?
3. The Ravens offense is struggling. The offensive line is banged up and the Ravens may need to call in the next man up on the left side. Are you looking at this as a get right game for the defense?
I definitely looked at last week as a get right week for them, and for the most part they showed growth. A young team in Tennessee missing key weapons on offense should have most teams salivating, but for me it just sort of felt like a lucky break. I expect this defense to show a similar performance and continue to build off of last week in a more commanding way, and for Khalil Mack to finally show up in that sack column. I mean, all we can really do is go up, right?
4. West Coast teams have struggled in 1:00 starts on the East coast. Does the travel have a big impact or is it overblown?

I think there is some validity in the perils of traveling to the East Coast, especially having just traveled out there (almost) the week before. But for the Raiders, East Coast games have been an absolute curse. They are 1-18 in the past 19 contests (that lone win coming in Cleveland), and that can train the psyche to freak the hell out when in that eastern time zone. But if this team wants to be taken seriously, wins on the East Coast have to be a common theme season to season.