Ravens Vs Cowboys: The Fantasy Football Preview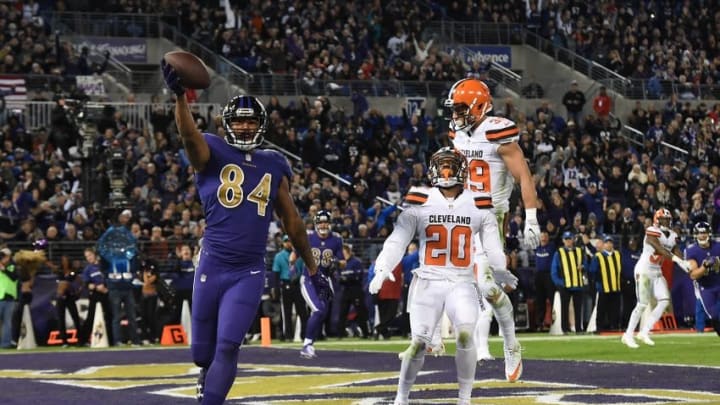 Nov 10, 2016; Baltimore, MD, USA; Baltimore Ravens wide receiver Chris Matthews (84) celebrates after scoring a touchdown in front of Cleveland Browns cornerback Briean Boddy-Calhoun (20) during the third quarter at M&T Bank Stadium. Mandatory Credit: Tommy Gilligan-USA TODAY Sports /
The Baltimore Ravens head to Dallas for a showdown with the Cowboys.  Here's a list of fantasy football players you should start and sit for this game.
This is the beginning of the tough part of the schedule for the Ravens and boy does it get tough this weekend. The Cowboys are the best team in the NFL right now with an impressive 8-1 record.  Dak Prescott has taken the reigns since the injury of Tony Romo and Ezekiel Elliott looks like the real deal at running back.
Will the Ravens play spoiler this Sunday against a tough Cowboys team? The Ravens are known to play teams tough, but can they match the toughness of Dallas? Sunday should be a good test for the Ravens if they want to make the playoffs.
Week 11 Baltimore Ravens to sit vs the Cowboys:
Steve Smith Sr.: Smith has been limited this season due to some nagging injuries. The Cowboys have a solid secondary that could keep him in check.
Terrance West: West isn't as elusive as Dixon is and he might not be able to have any running room behind the O-line. If West was a patient runner, he might be able to do well against the Cowboys, but I don't see it happening this week.
Week 11 Baltimore Ravens to start vs the Cowboys:
Kenneth Dixon: I feel like this is the week that Dixon puts it all together and breaks out. He did well against the Browns, but this is a bigger game. He's going to be quick and elusive to get away from the Dallas defenders.
Darren Waller: This big tight end might be one of the X-factors in the game. He caught his first NFL touchdown last week and that should give him more confidence moving forward. He creates such a mismatch because of his height. Expect to see him make some key plays this weekend.
Week 11 Dallas Cowboys to sit vs the Ravens:
Ezekiel Elliott: I know this might not be the best decision for some people, but the Ravens have a tremendous run defense.  Not too many teams are successful at running the ball against them so I would suggest sitting Elliott this week.
Dez Bryant: Jimmy Smith will be lining up against Dez Bryant this week, which means you should sit Bryant.  Smith shuts down the top wide receiver for each team, and the only reason why Odell Beckham Jr. had so many yards against the Ravens was after Smith left the game due to injury.  If it weren't for the injury to Smith, Beckham Jr wouldn't have such good numbers.
Week 11 Dallas Cowboys to start vs the Ravens:
Jason Witten: Once again, tight ends seem to always give the Ravens issues. Witten is big and strong and catches almost everything thrown his way and I don't see that slowing down this week. Prescott loves Witten and is his security blanket.
Cole Beasley: Beasley to me reminds me of a Wes Welker type player. He's a slot guy that get open and make some big plays down the field. If I were the Cowboys, I'd use him a lot to open up more passing lanes for Prescott.