Is Greg Roman Coming On Board a Big Deal For Ravens?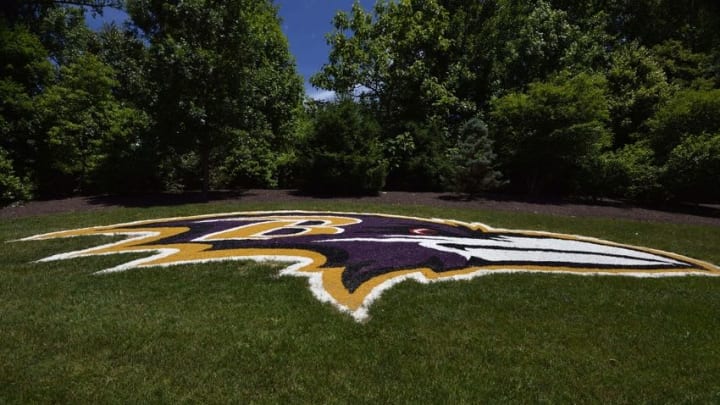 Jun 14, 2016; Baltimore, MD, USA; A general view of the Baltimore Ravens logo painted on the hill outside the Under Armour Performance Center prior to the start of mini camp. Mandatory Credit: Tommy Gilligan-USA TODAY Sports /
Greg Roman is the former offensive coordinator of the Buffalo Bills, and San Francisco 49ers. Now he joins the Ravens in an undefined role:
The Baltimore Ravens are bringing in Greg Roman according to multiple sources. Roman is certainly an experienced coach. He was an assistant coach for Jim Harbaugh at Stanford. He followed his head coach to be the offensive coordinator of the 49ers. Roman was fired two games into this season by the Buffalo Bills.
If the Ravens were looking for an offensive coordinator, Roman may have been a viable candidate. Roman will now work for John Harbaugh. The Harbaugh connection could be why the Ravens turned to Roman. However, it is unclear what Roman will do.
Whether Roman is here to work with Joe Flacco, or improve the running game, it could put pressure on Mornhinweg. Remember, the Ravens thought about firing Trestman before the 2016 season. When Trestman worked the Ravens last straw, they replaced him with Mornhinweg. Fatigue of coordinator change is the only reason Mornhinweg is back. He underachieved, nothing changed and quite frankly, the fans have had enough. Roman might be here in case it goes horribly wrong next season.
The Bottom Line
Pressure on Mornhinweg and another voice on the offensive coaching staff can not be considered a bad thing. The Ravens have proven that they need help on the offensive side of the football. While play-makers are needed, so is the right plan to make it work. Roman's reputation is as a run first guy. Mornhinweg needs help with the running game and this is likely the help he needs.
Next: Joe Flacco Is The Quarterback Of the Foreseeable Future
Roman has a good reputation in the NFL. Things didn't go well in Buffalo this past season, but it seemed like he was Rex Ryan's scapegoat. The Ravens needed an outside voice to come in. They did not have answer by themselves. This was made very clear.
Roman has enough success in his past to make this intriguing. We will have to see what happens moving forward, but this move cannot hurt. The Ravens offense needs all the help it can get.