Purple Rewind: The 2001 Baltimore Ravens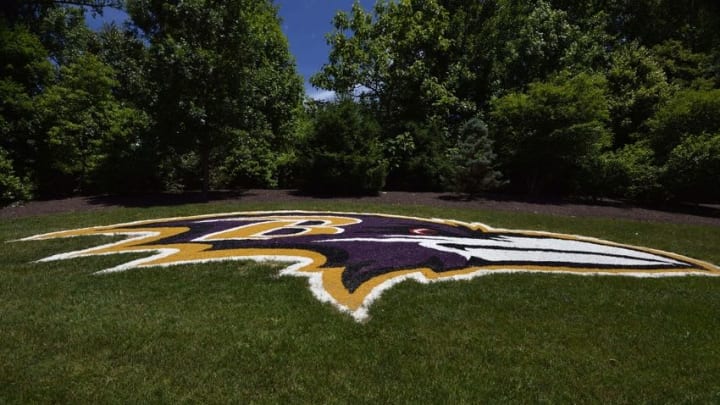 Jun 14, 2016; Baltimore, MD, USA; A general view of the Baltimore Ravens logo painted on the hill outside the Under Armour Performance Center prior to the start of mini camp. Mandatory Credit: Tommy Gilligan-USA TODAY Sports /
Jun 14, 2016; Baltimore, MD, USA; A general view of the Baltimore Ravens logo painted on the hill outside the Under Armour Performance Center prior to the start of mini camp. Mandatory Credit: Tommy Gilligan-USA TODAY Sports /
The 2001 Baltimore Ravens went for a repeat. Although they fell short, the Ravens had a memorable season.
The 2001 Baltimore Ravens got bad news before the season started. Jamal Lewis, their star running back was lost for the season. Terry Allen and Jason Brookins were asked to fill the void that their injured running back left. The Ravens offense wasn't what made the magic for their championship run in the prior season. When 2001 started the Ravens had a completely different backfield. The Ravens parted ways with Trent Dilfer, who was under center for Super Bowl XXXV, and replaced him with Elvis Grbac.
Grbac will never be a popular name in Baltimore. Grbac was supposed to be a star quarterback. He had a Pro Bowl season with the Kansas City Chiefs. Dilfer may not have been more than a game manager, but Grbac turned out to be a downgrade. Grbac completed just 56.7 percent of his passes for 3,033 yards. He threw 15 touchdowns and 18 interceptions.
The defense had to carry the team once again. The Ravens kept the band together and had a very similar defensive roster. The Ravens defense carried the team to a 10-6 record and the playoffs for the second straight season. Baltimore had an especially great season from a pass rushing perspective. Peter Boulware had 15 sacks, Michael McCrary had 7.5, while Jamie Sharper recorded six.