Purple Rewind: The 2001 Baltimore Ravens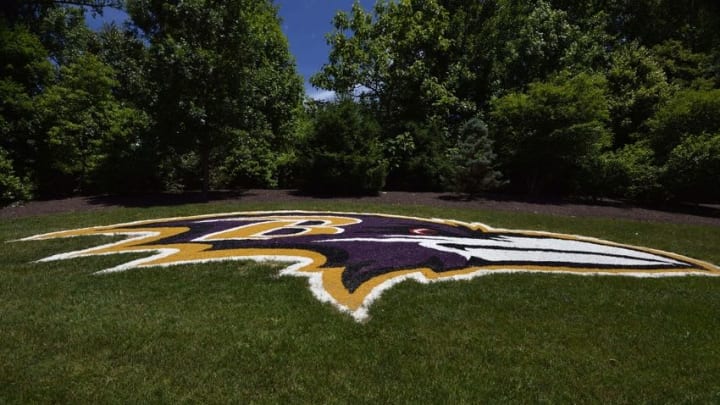 Jun 14, 2016; Baltimore, MD, USA; A general view of the Baltimore Ravens logo painted on the hill outside the Under Armour Performance Center prior to the start of mini camp. Mandatory Credit: Tommy Gilligan-USA TODAY Sports /
Jul 24, 2014; Owings Mills, MD, USA; A detailed view of an Baltimore Ravens helmet in the grass after practice at Under Armour Performance Center. Mandatory Credit: Tommy Gilligan-USA TODAY Sports /
A Frustrating Finish:
The Ravens lost in the Divisional Playoffs 27-7 to the Pittsburgh Steelers. It was an awful finish to a really good season. Elvis Grbac had the worst day of his career. He was sacked three times, threw three interceptions and completed  only 49 percent of his passes. Any chance the Ravens had of beating the Steelers was ruined by incompetent quarterback play.
Kordell Stewart did not have a great day for the Steelers either. He threw for 154 yards and a touchdown and an interception. However, Stewart did not have to do much in this game. The Ravens beat themselves.
Next: 3 Biggest Draft Busts In Ravens History
The Baltimore Ravens had a strong 2001 campaign. It did not have the magic of their Super Bowl XXXV run, but they made a valiant effort. They lost their best offensive player because of injury. Their new quarterback struggled and they still won 10 games.