Ravens Draft: Don't rule out drafting a linebacker in 1st round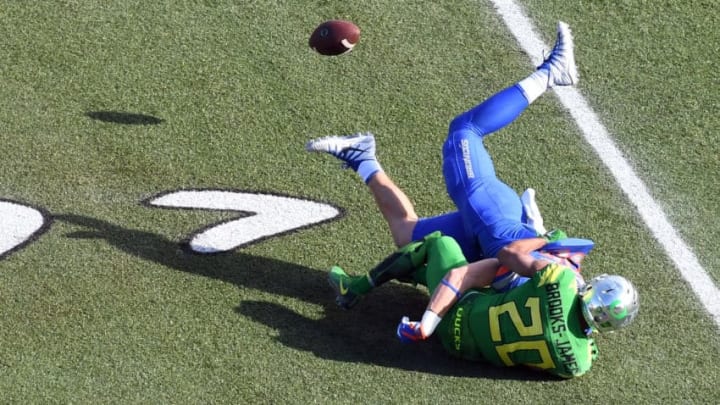 LAS VEGAS, NV - DECEMBER 16: Running back Tony Brooks-James #20 of the Oregon Ducks fumbles the ball as he is hit by linebacker Leighton Vander Esch #38 of the Boise State Broncos in the first half of the Las Vegas Bowl at Sam Boyd Stadium on December 16, 2017 in Las Vegas, Nevada. (Photo by Ethan Miller/Getty Images) /
The Baltimore Ravens may consider taking a linebacker in the first round of the 2018 NFL Draft. It may not be what you want but it could be where the value is at the 16th pick. The purple and black can talk all they want about helping the offense, we know Ozzie Newsome sticks to his board.
If Calvin Ridley is off the board the Ravens could still take a receiver. However it is possible that the Breshad Perriman situation will shy them away from a first round wide-out. There would probably be a great linebacker available in the middle of the first round.
What the Ravens need is a headhunter who flies to the football. They need a right inside linebacker to put next to C.J. Mosley. In a perfect world, Zach Orr would still be in pads. In this NFL Draft, Orr should be the model for finding the perfect linebacker.
Assuming Roquon Smith is picked early on, the Ravens would have two viable options. The best option would be Leighton Vander Esch. Vander Esch is a lot like Orr but in a bigger and quicker frame. Vander Esch is 6'4″ and 240 pounds. He has the acceleration of a tight end running routes and the power of an over sized pick-up truck.
Two productive linebackers:
In the 2017 season Vander Esch had 141 tackles and 8.5 tackles for a loss. He sacked the quarterback four times, picked off three passes and forced four fumbles. Vander Esch is insanely productive.
Must Read: The case for and against signing Tavon Austin
Vander Esch has really good instincts and he breaks on the ball better than any linebacker in this draft class. The Boise State linebacker is worth the 16th pick.
The other option is my third ranked linebacker, Rashaan Evans. Evans comes from the National Champion the Alabama Crimson Tide (Yes, Newsome probably loves him). I would feel more comfortable taking Evans in the 20's, but he can be justified at 16.
In 2017, Evans had 74 total tackles, 13 tackles for a loss and six sacks. Evans and Vander Esch are about the same in terms of size. Evans is a well coached linebacker from a school that produces NFL talent at the linebacker position.
Next: The case for and against signing Muhammad Wilkerson
At the end of the day, I think Vander Esch should be a player on the Ravens radar. We all want a wide receiver but we could end up with a linebacker with Newsome's best player available mindset. It may not be the end of the world if the pick is Vander Esch or Evans.