Ravens Draft: The Pros and cons of taking Mike McGlinchey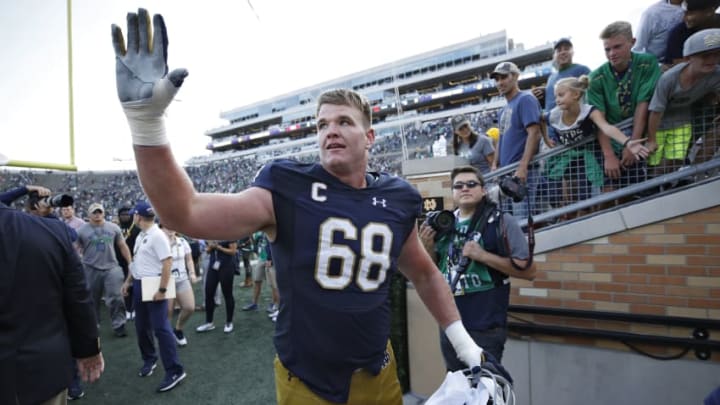 SOUTH BEND, IN - SEPTEMBER 02: Mike McGlinchey #68 of the Notre Dame Fighting Irish celebrates as he leaves the field following a game against the Temple Owls at Notre Dame Stadium on September 2, 2017 in South Bend, Indiana. The Irish won 49-16. (Photo by Joe Robbins/Getty Images) /
The Baltimore Ravens have been considered a team that may draft Mike McGlinchey. Should the Ravens target the Notre Dame offensive tackle?
The Baltimore Ravens drafted a left tackle from Notre Dame in the 2016 NFL Draft and it worked out well. With the sixth overall pick the Ravens cashed in on the misery of the 2015 campaign and drafted Ronnie Stanley. The 2018 NFL Draft could give the Ravens a chance to provide the offensive line with stellar bookend tackles. Could the Ravens draft another offensive tackle from Notre Dame, in Mike McGlinchey?
The Ravens have always been a team that goes with the best player available mantra. In a year where the offensive line is possibly the best position in the draft, McGlinchey might just be the best player the Ravens can take at 16. The Ravens offensive line isn't the biggest area of need, but there isn't a clear answer at right tackle. Do the Ravens really want to put James Hurst there? If the Ravens want to keep Alex Lewis at left guard, drafting a right tackle makes an awful lot of sense.
The purple and black have some tough decisions to make, however they have already made a few. The decision not to pick up Austin Howard's option makes right tackle a real possibility for the Ravens. Today we're going to look at the pros and cons of drafting McGlinchey. Building a dominant offensive line sounds promising. Drafting a right tackle in the first round seems a bit wasteful of the top pick, considering the Ravens record of finding good linemen later than that. There is a lot to think about here, so here I'm breaking down both sides of this debate.