Baltimore Ravens: 5 takeaways from the Hall of Fame Game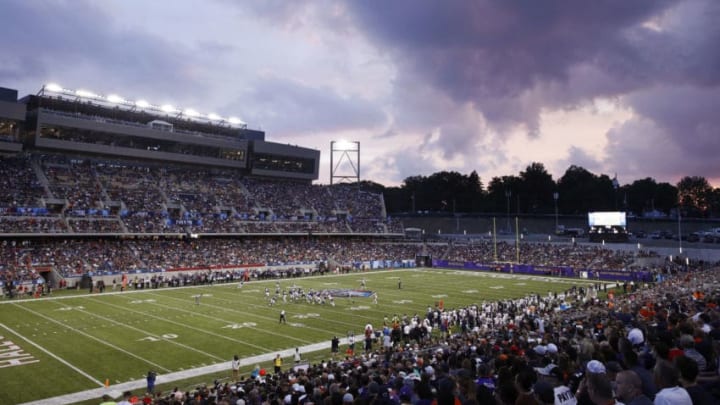 CANTON, OH - AUGUST 02: General view as the sun sets in the first quarter of the Hall of Fame Game between the Baltimore Ravens and Chicago Bears at Tom Benson Hall of Fame Stadium on August 2, 2018 in Canton, Ohio. (Photo by Joe Robbins/Getty Images) /
CANTON, OH – AUGUST 02: General view as the sun sets in the first quarter of the Hall of Fame Game between the Baltimore Ravens and Chicago Bears at Tom Benson Hall of Fame Stadium on August 2, 2018 in Canton, Ohio. (Photo by Joe Robbins/Getty Images) /
Here are five takeaways from the Baltimore Ravens 17-16 preseason win:
1. We can put the quarterback controversy talk on a shelf
All the talk about the quarterback controversy with the Baltimore Ravens is null and void, because there is no controversy. The writing is on the wall that the Ravens are keeping three quarterbacks this season. It will impact the roster math, but the Ravens don't have a choice. Robert Griffin III looked like a competent back up and Lamar Jackson looked like he wasn't ready.
When the Ravens first depth chart came out, there was a lot of talk about the order of the quarterbacks. It read, Flacco, Griffin III and then Jackson. The depth chart played out on Thursday night. Jackson is the third best quarterback on the roster. He needs to work on a few things, pocket presence being the most paramount of these things. The Ravens have to keep three quarterbacks. Even if Jackson makes strides through the preseason, having Griffin III will make a huge difference for Baltimore.
Flacco is the clear cut starter and he always has been. Flacco has experience that both Griffin III and Jackson don't have. The Ravens have won with Flacco and they know they can win with him again. When the Ravens selected Jackson, they weren't kicking Flacco out the door; they were simply securing a future at the position. Flacco isn't a long-term answer at quarterback but he is easily the best quarterback the Ravens have. All QB drama from this point on will be a stretch. There isn't any quarterback drama or any signs of it popping up in the coming weeks.