Baltimore Ravens win Hall of Fame Game: 6 players whose stock is up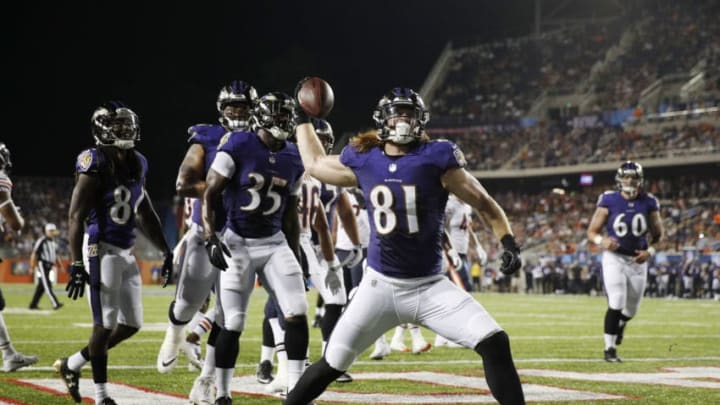 CANTON, OH - AUGUST 02: Hayden Hurst #81 of the Baltimore Ravens reacts after a touchdown reception against the Chicago Bears in the third quarter of the Hall of Fame Game at Tom Benson Hall of Fame Stadium on August 2, 2018 in Canton, Ohio. (Photo by Joe Robbins/Getty Images) /
CANTON, OH – AUGUST 02: Robert Griffin III #3 of the Baltimore Ravens looks to pass in the first quarter of the Hall of Fame Game against the Chicago Bears at Tom Benson Hall of Fame Stadium on August 2, 2018 in Canton, Ohio. (Photo by Joe Robbins/Getty Images) /
2. Robert Griffin III
Robert Griffin III is trying to make a team that has a 10 year starter and a first round pick at the quarterback position. Flacco and Jackson are both locks to make the roster, so Griffin has to convince the Ravens to keep three quarterbacks. This night couldn't have gone much better for the former Washington Redskins, number two overall pick.
Griffin III played solid football. He was an efficient 7-11 for 58 yards, with a touchdown and an interception that was Breshad Perriman's fault. Griffin looked poised and he was playing sharp. Was it the kind of performance that blows you away? No. Was it exactly the steady output the Ravens need to know they can get from him? One hundred percent yes.
Things got better for Griffin III when Lamar Jackson struggled in the second half. Jackson made it clear that he wasn't quite ready. This makes the notion that the Ravens will keep three quarterbacks more believable. The Ravens may not have a choice, which means Griffin III saw his stock shoot up in a big way,
1. Kamalei Correa
Who are you and what did you do to the Kamalei Correa we were used to seeing the last two seasons? Correa has been one of the most frustrating draft picks in recent memory, but he played well in the Hall of Fame Game. Correa was flying around and making plays. It didn't matter that Correa was doing it against backups, because he never used to do this, even against backups.
The Ravens moved Correa back to outside linebacker and it seems to have been a magic touch. Correa had five tackles, three sacks and an interception. While the interception was on a bad throw, Correa was in perfect position on the play. Correa is in a put up or shut up situation. If he doesn't perform this preseason and in training camp he is gone. It's only one of the Ravens five preseason games, but nobody shined brighter than Correa. Correa was one of the positive surprises the team had in store.