Elvis Dumervil: Commemorating an all-time Ravens great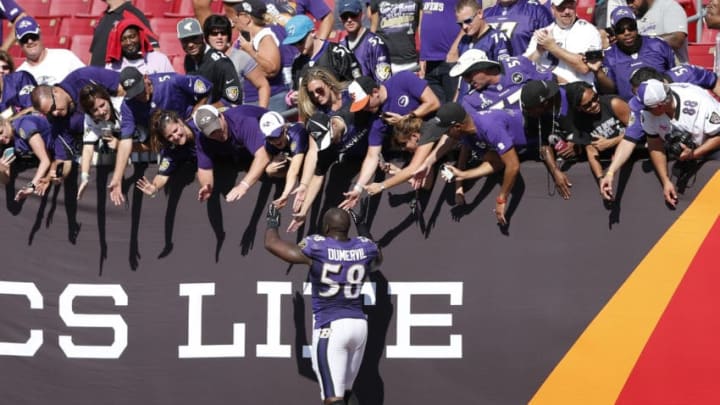 TAMPA, FL - OCTOBER 12: Elvis Dumervil #58 of the Baltimore Ravens celebrates with fans after the game against the Tampa Bay Buccaneers at Raymond James Stadium on October 12, 2014 in Tampa, Florida. The Ravens defeated the Buccaneers 48-17. (Photo by Joe Robbins/Getty Images) /
Thursday would see one of the best pass rushers from the past decade announce his retirement. Today, we honor Elvis Dumervil, an all-time Ravens great.
Elvis Dumervil may never end up in the Pro Football Hall of Fame, but he certainly left his mark on the field during his 12-year tenure in the league. Dumervil racked up 105.5 sacks and 23 career forced fumbles in 11 playable seasons (missed all of 2010 with a torn pectoral muscle) and added five Pro Bowl nods and two First-Team All-Pro selections to his mantle. "Doom" also had two seasons of 17.0 sacks and was voted for Defensive Player of the Year numerous times, albeit he never won the award. Indeed, Elvis Dumervil had quite the career, but he should be remembered as a Baltimore Ravens All-Time Great.
Dumervil's career in Baltimore was certainly an interesting one from start to finish. Without a doubt the weirdest free agent signing I have ever seen was Dumervil to the Ravens, but not because the Denver Broncos released him. Rather, his agent attempted to fax a restructured contract to the team to avoid paying Dumervil $12 million in guarantees, a story better described here. It wasn't long afterwards that the Ravens signed "Doom" to a five-year deal worth up to $35 million.
From there, the rest was history.
In four seasons in Charm City, Dumervil notched 35.5 sacks, good enough for sixth all-time in Ravens franchise history. One of the aforementioned 17.0 sack seasons came with Baltimore in 2014, which saw Dumervil and Terrell Suggs lead the NFL in sacks between a single-duo at 29.0. The duo of Dumervil and Suggs was regarded as the best-of-the-best throughout the league, and with good reason.
Elvis Dumervil's 17.0 sacks became a Ravens single-season franchise record, breaking Suggs' previous mark of 14.0 in 2011. Incredibly, "Doom" managed this feat despite starting just two games that season. Dumervil was simply the ultimate pass rushing specialist and was a key reason the Ravens returned to the post-season for the first time since 2012. The Ravens, of course, have not made the post-season since 2014, and a large part of that is because of Dumervil's play for Baltimore.
Unfortunately, many will remember the former Louisville Cardinal as a Bronco, but he will forever hold a spot inside the hearts of Ravens Flock forever. The ferocity he brought off the edge and the passion and embodiment he presented himself to be to fans, teammates, coaches, staff members, owners, and anyone else separated him from the pack.
So, from all of us in Ravens Flock: Thank you, Elvis Dumervil. You'll always be remembered fondly for your time in Charm City, and if you chose to retire as a Raven, no one here would be even slightly upset. Best of luck to you on your future endeavors.