Month at a glance: Baltimore Ravens had eventful August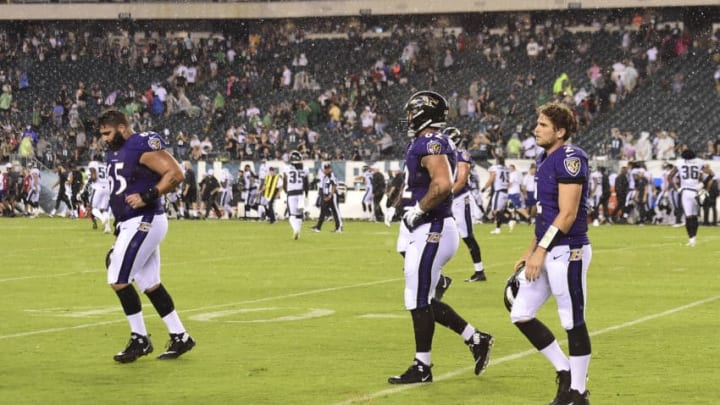 PHILADELPHIA, PA - AUGUST 22: Patrick Mekari #65, Marcus Applefield #62, and Joe Callahan #2 of the Baltimore Ravens walk off the field after play was suspended in the fourth quarter due to severe weather during a preseason game against the Philadelphia Eagles at Lincoln Financial Field on August 22, 2019 in Philadelphia, Pennsylvania. (Photo by Patrick McDermott/Getty Images) /
The month of August 2019 has come and passed, but it was a rather eventful month for the Baltimore Ravens for a multitude of reasons.
All thoughts in Ravensdom are firmly focused on Miami right now, as the Baltimore Ravens are preparing to finally get started on this 2019 season with a road game against the Miami Dolphins. But before General Manager Eric DeCosta and his Ravens got to this point, they had to get through August first (It's calendar thing. Don't fight it.).
Without further ado, let's take a trip back through August, where many major decisions were made regarding the construct of the 2019 Ravens.
Transactions:
The official transaction timeline is courtesy of the Baltimore Ravens website.
The month started with the team waiving linebacker Matthew Thomas, and bringing back a familiar face in safety/special teams ace Brynden Trawick. A few days later, on Aug. 5, DeCosta shipped out former starting guard Alex Lewis, trading him to the New York Jets for a conditional pick.
DeCosta picked up a ton of "street cred" amongst the Baltimore Ravens faithful on Aug. 11, when he managed to trade kicker/punter Kaare Vedvik to the Minnesota Vikings for a fifth round pick. Look, most of us liked Vedvik, were impressed by his leg and wanted to see him succeed. Most of us also giggled when we saw what DeCosta got for him. There were even rumors of full-on belly laughs.
On Aug. 23, the team signed veteran free agent linebacker Paul Worrilow. He retired the next day. In retrospect, I probably shouldn't have ordered that Worrilow jersey on the 23rd. Oh well, I went with a solid backup plan, adding the home jersey of Willie Henry to carry me through this season.
On Aug. 27, the team signed defensive back Fish Smithson. After immediately ordering his jersey, I was still basking in the glow of the Ravens obtaining that spectacularly named corner when word came out the next day that the Ravens traded offensive lineman Jermaine Eluemunor to New England for another draft pick. Eluemenor was seemingly given every opportunity to win the starting left guard position throughout the summer, but was never able to lock it down.
The team finalized its 53-man roster to close the month. Henry was cut. Smithson went on Injured Reserve. It hit me that my luck on ordering a jersey for this year was, well, not very good.
The preseason:
This is a season of change, with several old faces now in new places and an organizational shift to a fast, explosive roster, on both sides of the ball. But one thing that remains the same is the Ravens dominance of the preseason, extending their streak to 17 wins.
They started out with a 29-0 drubbing of Jacksonville, highlighted by a ferocious sack by linebacker Kenny Young. The Baltimore Ravens followed up with a 26-13 win over the Green Bay Packers, and many won't soon forget the electric touchdown scamper by Lamar Jackson that was called back for a penalty.
The Ravens moves to 3-0 on the preseason when they topped the Philadelphia Eagles 26-15, and was halted early due to weather,  it it was the Trace McSorley show before that, as the rookie quarterback likely cemented his roster spot with this performance. The Ravens wrapped up their preseason with a 20-7 win over the Washington Redskins, and like McSorley the week before, Jaleel Scott showed all of Ravensdom that he belongs on the field with this team when the game counts.
August forged this team for the 2019 season. Now it's time to get rolling.