Torrey Smith: Top-five moments with the Baltimore Ravens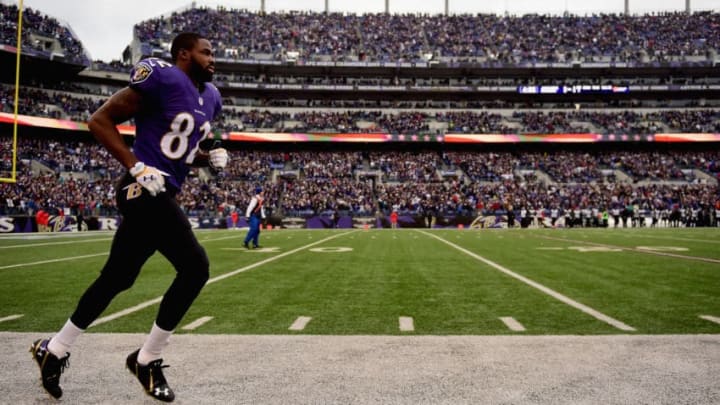 BALTIMORE, MD - DECEMBER 14: Wide receiver Torrey Smith #82 of the Baltimore Ravens takes the field for a game against the Jacksonville Jaguars at M&T Bank Stadium on December 14, 2014 in Baltimore, Maryland. (Photo by Patrick Smith/Getty Images) /
The career of Torrey Smith has come to an end, but the former Baltimore Ravens wide receiver left us with a ton of good memories to relish.
Of Baltimore Ravens wide receivers to play with the team more than three seasons, Torrey Smith is undoubtedly the second-best ever, only behind Derrick Mason. This isn't a sad statement, either, as Smith in his prime was perhaps the best deep-threat in the league. Team's game-planned every week how to stop Torrey Smith from devouring them alive…
In his four-seasons with Baltimore, Smith was a fan-favorite both on and off the field. On it, Smith's speed was legendary. There's little debate that he was perhaps the fastest player in the league for a couple years, but he was someone who could break a big-play at any moment. When the ball was in his hands, he was dangerous.
Off the field, well, we'll get to that in a moment!
Today, we're here to celebrate Torrey Smith's retirement from the NFL and be grateful for what he gave to Ravens Flock. Thank you, Torrey, for everything! This article is for you.
An incredible man in the community:
If there's anything to remember Torrey Smith for, it should be for his work in the communities of wherever he was. Since coming to Maryland in college for the hometown Terrapins, Smith was dedicated to being a man's man and striving for greatness as an individual. Nothing was more important in his life than his family and God. You can't hate a man with the compassion and understanding that he was born with.
Smith created his own charity foundation known as the "Torrey Smith Foundation (TSF)" that supports children with outside issues such as eduction, money, etc. while also benefiting its community. It truly is a purpose higher than football that Smith has placed tons of value into.
Torrey Smith is who you'd want to take your daughter to prom and is truly a one-of-a-kind individual. In today's society, we don't see many people like that so I had to make sure we gave Smith credit for this before we talked about his NFL career.