Torrey Smith: Top-five moments with the Baltimore Ravens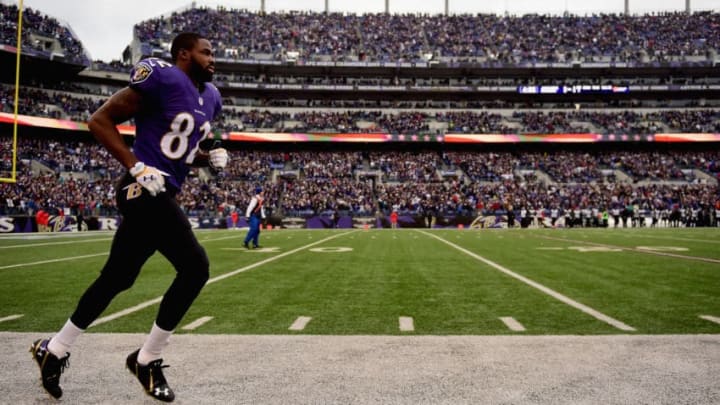 BALTIMORE, MD - DECEMBER 14: Wide receiver Torrey Smith #82 of the Baltimore Ravens takes the field for a game against the Jacksonville Jaguars at M&T Bank Stadium on December 14, 2014 in Baltimore, Maryland. (Photo by Patrick Smith/Getty Images) /
BALTIMORE, MD – SEPTEMBER 23: Torrey Smith #82 of the Baltimore Ravens celebrates after he scored a 25-yard touchdown recpetion in the second quarter against the New England Patriots at M&T Bank Stadium on September 23, 2012 in Baltimore, Maryland. (Photo by Patrick Smith/Getty Images) /
A game of a lifetime:
There's absolutely no debating that this heart-warming performance is the greatest moment of Torrey Smith's career, regardless of what team he was on.
In case you are somehow unaware, Smith's brother, Tevin Jones, tragically died in a motorcycle accident. This came on the morning before the Baltimore Ravens were set to play the New England Patriots in a rematch of the 2011 NFL season's AFC Championship game. For teammates and coaches to see their young star receiver grieving over the loss of a loved one… to say that the locker room was heavy with emotion would be an understatement. Players rallied behind Smith in any way they could, and the fans poured their support as best they could.
While many players would've opted not to play, Torrey Smith was determined to help the Ravens win. The performance he turned in was otherworldly, and was no doubt inspired by his late-brother. Smith was unstoppable vs. the Patriots, reeling in six receptions for 127-yards and two touchdowns. His first touchdown saw him point to the Heavens, an obvious gesture for his sibling, and made the whole world cry. His second, and the rest of his performance, was simply incredible.
Baltimore was able to pull a win out of this game, and their hero and MVP was Torrey Smith without question. Smith displayed his talent, but what stood out most was his dedication to his family, both blood and otherwise. The day he had was something we will all remember and cherish.
Truly, Torrey Smith's career was a good one. With the Baltimore Ravens, he left a mark on team history in multiple ways, to include holding the team's second Lombardi Trophy. His play was great, and his character was unmatched…
To Torrey Smith… You are without a doubt one of the greatest Baltimore Ravens to suit up in the purple and black both as a player and an individual. The city of Baltimore is forever grateful for you and what you gave to the community and fans. From the bottom of our hearts, THANK YOU for being such a remarkable person, and we wish you nothing but great things for the rest of your days. Here's to one-day being in the Baltimore Ravens Ring of Honor!