Baltimore Ravens stave off Arizona Cardinals: Handing out 3 game balls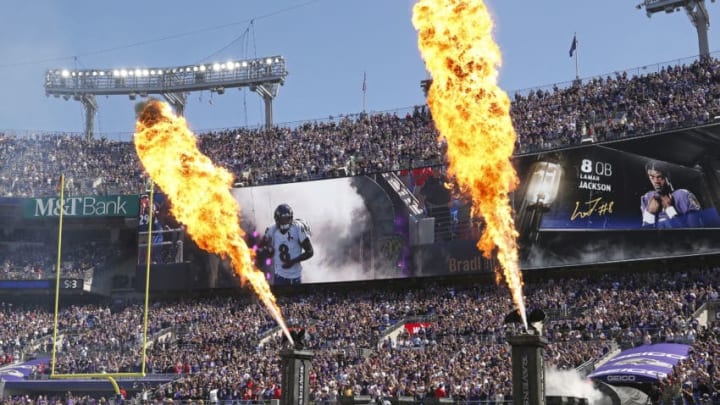 BALTIMORE, MARYLAND - SEPTEMBER 15: Quarterback Lamar Jackson #8 of the Baltimore Ravens takes the field prior to the game against the Arizona Cardinals at M&T Bank Stadium on September 15, 2019 in Baltimore, Maryland. (Photo by Todd Olszewski/Getty Images) /
BALTIMORE, MD – SEPTEMBER 15: Justin Tucker #9 of the Baltimore Ravens celebrates a field goal against the Arizona Cardinals during the second half at M&T Bank Stadium on September 15, 2019 in Baltimore, Maryland. (Photo by Dan Kubus/Getty Images) /
Justin Tucker: 
The man is the greatest kicker of all-time, and nobody can tell me otherwise.
Justin Tucker was arguably the player of the game today. He went three-of-three on field goal attempts, including a 51-yard bomb. He also connected from 28- and 33-yards. The Baltimore Ravens offense struggled to get the ball into the end zone consistently this week and had to rely on the leg of Tucker more so than last week. Without Tucker, the Ravens don't beat the Arizona Cardinals.
I think a lot of fans, including myself, take Tucker for granted; not in the sense that we don't appreciate him, but in the sense that we automatically expect him to make every kick he attempts. He makes it look so effortless that it's almost a guarantee he makes the kick, no matter the distance. For the most part he does, but I think we should all take a minute and look around the league, and see how many teams are struggling in the kicking game.
The guy has missed only one PAT and has a 90.6 career field goal percentage. There are 31 teams that would love to have Tucker on their roster and we should be eternally grateful that Tucker is all ours.
The Ravens have something special brewing on offense. With the dual-threat of Lamar Jackson, the consistent hands and grown man running from Mark Andrews, the leg of Justin Tucker, and the rest of the offensive weapons Baltimore poses, they have a chance to be special, and make the 2019 season one to remember.