Baltimore Ravens: 3 Tricks, 3 treats of the 2019 season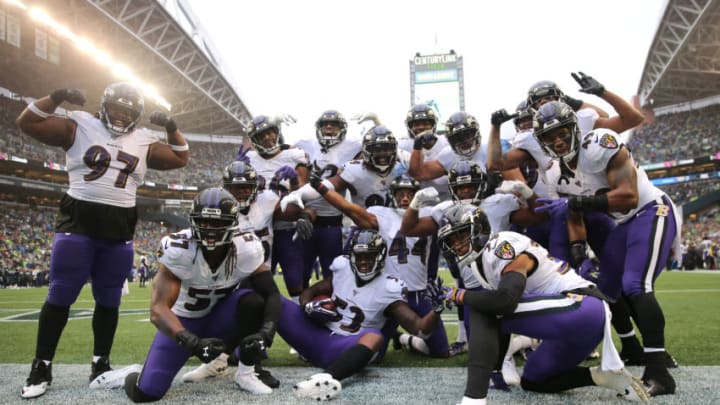 SEATTLE, WASHINGTON - OCTOBER 20: The Baltimore Ravens celebrate a 18 yard fumble recovery touchdown by Marlon Humphrey #44 of the Baltimore Ravens in the fourth quarter against the Seattle Seahawks at CenturyLink Field on October 20, 2019 in Seattle, Washington. (Photo by Abbie Parr/Getty Images) /
It's just about time to go trick or treating. In the Halloween spirit, we're going to look at the Baltimore Ravens' bag of goodies. We're going to start things off with the tricks though:
Trick number 1: The fully stocked secondary:
The secondary the Ravens came in the season with looks a lot different than it does today. The Ravens saw their great cornerback depth start to thin out when Tavon Young went down with an injury in the preseason. The Ravens are about to get Jimmy Smith back from his injury in the season opener. In Smith's absence the purple and black have lost Tony Jefferson and DeShon Elliott for the season and the Ravens traded for Marcus Peters. Things have not gone as planned and this secondary spent most of the first half of the season failing to live up to their billing,
The defense is right in the middle of the packed, ranked 16th out of 32 teams in overall yards allowed per game. The defense ranks 26th in pass defense and got torched by the Arizona Cardinals, Kansas City Chiefs and the ever struggling Cleveland Browns. The low-lights of the Ravens pass defense allowed Baker Mayfield an oasis from his struggles and the Steelers to push Baltimore to the brink with Mason Rudolph and Devlin Hodges. Getting Jimmy Smith back is huge. Getting Peters was huge. The path forward might be well lit, the path behind the secondary was dark and dreary.
The secondary that the Ravens expected is not what they got. This is the Halloween equivalent of asking for a Snickers bar and getting off brand licorice. If you went into the season thinking that the defense would be dominant and the secondary would be elite you were tricked (at least for the first half of the season).