Baltimore Ravens: 3 Tricks, 3 treats of the 2019 season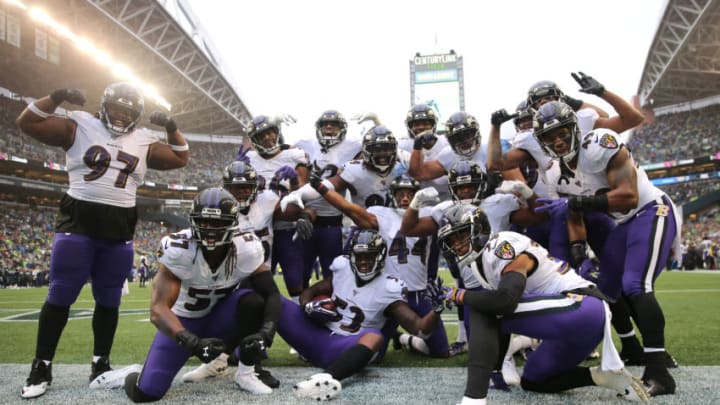 SEATTLE, WASHINGTON - OCTOBER 20: The Baltimore Ravens celebrate a 18 yard fumble recovery touchdown by Marlon Humphrey #44 of the Baltimore Ravens in the fourth quarter against the Seattle Seahawks at CenturyLink Field on October 20, 2019 in Seattle, Washington. (Photo by Abbie Parr/Getty Images) /
Treat number 1: Lamar Jackson
Lamar Jackson has been incredible this season. You don't need statistics to tell you that because you've seen it. Jackson has been the star of the show so far this season. He's done it as a passer. He's done it as a runner and he's been a leader. The Ravens are energized by Jackson and it's obvious. If Joe Flacco was a reliable car battery, Jackson is a generator that could light the entire city of Baltimore.
Jackson is taking less big hits than most pocket passers. Jackson is being smart as a running quarterback which is his way of changing the game. He's almost inventing a new way to play quarterback. This is the offensive revolution the Ravens promised yet they are really running an NFL offense. Jackson just adds something extra. He's become a better passer and he has made big plays both ways. This is a quarterback who can change a game with a throw to seal the deal (Ex. Cardinals game) and a touchdown run for the ages (Ex. 4th and 2 in Seattle).
You know how i told you that you don't need stats to paint this picture? I'm going to put them in your bag anyway. Jackson has completed 63.3 percent of his passes. He has 1,650 yards and 11 touchdown passes. His passer rating to this point is 94.1. Jackson has a team leading 576 rushing yards and averages 6.9 yards per carry. This guy is unstoppable ladies and gentlemen. Hail to the MVP.