How the Baltimore Ravens exposed the New England Patriots on SNF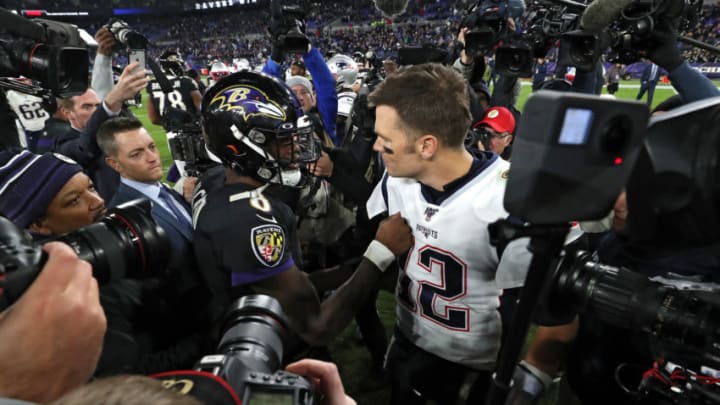 Lamar Jackson, Ravens (Photo by Todd Olszewski/Getty Images) /
BALTIMORE, MARYLAND – NOVEMBER 03: Cornerback Marlon Humphrey #44 of the Baltimore Ravens scores a 70-yard turnover touchdown after wide receiver Julian Edelman #11 of the New England Patriots (not pictured) fumbled during the third quarter at M&T Bank Stadium on November 3, 2019, in Baltimore, Maryland. (Photo by Will Newton/Getty Images) /
A crowded audience:
Surprisingly, one of the biggest keys to this Ravens victory happened when the players were in the locker room. Ed Reed was inducted into Baltimore's "Ring of Fame" and he along with former teammates Ray Lewis, Jonathan Ogden, and Torrey Smith were all present during this halftime ceremony. Real Ravens fans know how much those men brought to an organization starting from nothing, this 2019 Ravens team has a similar feel to it, but on the offensive end. Nevertheless, the Ravens ran onto the field for the third quarter to a re-energized Baltimore fan base.
The Patriots started off the second half with the ball, but that did not last too long before Patrick Onwuasor "peanut punched" the ball out of the hands of Julian Edelman. The result was a recovery by who else but star cornerback Marlon Humphrey for his second touchdown of the year.
Onwausor also had a sack in his first game back from injury. Fireworks blasted into the Baltimore night sky as fans roared and stadium lights flashed. Brady and the Patriots offense had a very tough time communicating due to the noise provided from the fans and eventually, Baltimore pulled away after a Lamar Jackson touchdown on the ground late in the fourth quarter.
There was so much to take away from a game that was truly a blast to watch. This Ravens defense finally put their pieces together, the tight end trio proved why they are so valuable to the team, running backs were forcing the ball down the middle with success, and Lamar Jackson is truly must-see television.
The combination of Lamar Jackson's feet, great offensive line play along with blocking downfield from receivers, and a diverse performance from the tight end trio help explain how Baltimore was able to run for 210-yards, exposing the NFL's number one ranked defense.
The overall game plan showed great preparation, patience, and confidence in this young football team. Honorable mentions go to Nick Boyle (caught his first touchdown), Patrick Ricard (played huge minutes on both sides of the ball), and Earl Thomas (played like a superstar all game). This was a team victory to the fullest.