Baltimore Ravens: Joe Burrow could be an AFC North rival in 2020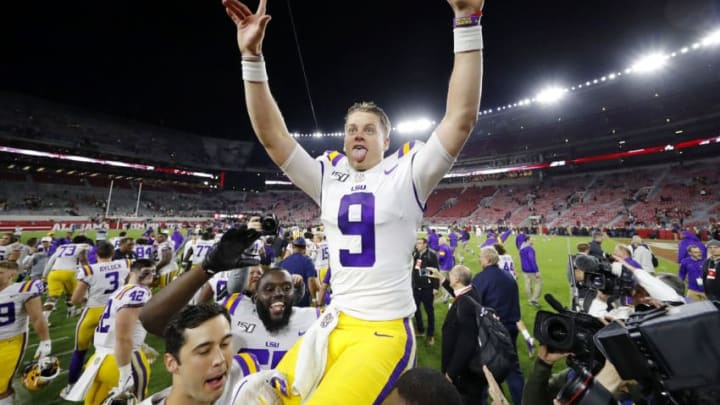 TUSCALOOSA, ALABAMA - NOVEMBER 09: Joe Burrow #9 of the LSU Tigers celebrates defeating the Alabama Crimson Tide 46-41 at Bryant-Denny Stadium on November 09, 2019 in Tuscaloosa, Alabama. (Photo by Kevin C. Cox/Getty Images) /
Joe Burrow has taken college football by storm in 2019, which could lead him to be a top pick in the 2020 NFL Draft. Could he end up in the AFC North?
Stud quarterback leading the number two ranked Louisiana State Tigers. Leading said team to a potential CFP appearance. Front-runner for the Heisman trophy. The number one overall pick in the 2020 NFL Draft? Ladies and gentlemen, I give you Joe Burrow.
Burrow, a former Ohio State University transfer and three-star dual-quarterback recruit, has thrown 33 touchdown passes this season to just five interceptions while taking his team from great to elite this season. The development from his first season with the Tigers to his second has been astronomical; something we've perhaps never seen before in a quarterback prospect. From game-manager to superstar, Joe Burrow has laid his foundation to be an all-time great.
What he's done in 2019 alone has made him a legitimate NFL quarterback prospect, and a top-tier one at that. Burrow has placed himself in the ranks of guys like Alabama's Tua Tagovailoa and Ohio State's Chase Young as a favorite to go first overall in the upcoming 2020 NFL Draft. In fact, I actually mocked him there in my most recent 2020 NFL Draft mock draft.
Who held that pick? None other than the Cincinnati Bengals.
It's an obvious fit, as the Bengals are likely looking for a franchise quarterback of the future following their decision to bench Andy Dalton (on his birthday, no less). Ryan Finley is probably not the guy to build a team around, but Joe Burrow sure looks like that kind of player.
In Burrow, you have a true leader with the arm talent and poise to lead any offense. Traditional, spread, air-raid… it doesn't matter because Joe Burrow does it all. When the Cincinnati Bengals are on the clock, they must consider Burrow… if he's even available.
Truth be told, the Miami Dolphins should also fancy Burrow's services. Regardless, the race between Burrow and Tagovailoa, who's long been hailed as the 2020 NFL Draft's top quarterback prospect, for the top-quarterback selection will be the most intense battle since Andrew Luck and Robert Griffin III. Burrow is that good of a prospect.
Back to the point on hand, Joe Burrow and the Cincinnati Bengals seems like a match made in Heaven. Zac Taylor would love to have a Jared Goff-esque quarterback leading a unit with versatile guys like Tyler Boyd, John Ross, and Joe Mixon. Burrow would actually be able to get the most out of weapons and even elevate their talent; something Andy Dalton could never do for the team.
In an AFC North division focusing on getting younger at quarterback, Joe Burrow would fit in seamlessly. The Cleveland Browns have Baker Mayfield and the Baltimore Ravens have Lamar Jackson. Cincinnati would sure love to keep pace with these two teams and heck, he could surpass both of them based off how well he's played this season against NFL-caliber defenses. Again, Burrow is that good.
Whatever you may think of the Cincinnati Bengals now, know that Joe Burrow is their potential quarterback of the future and could turn them around sooner than we expect. It seems like the perfect scenario for both Burrow and the Bengals in terms of fit, talent, and potential… The Baltimore Ravens could have one more young, star quarterback to worry about in 2020 in Joe Burrow, and he could give the Ravens fits.