Ebony Bird debate: Should the Ravens target Jadeveon Clowney?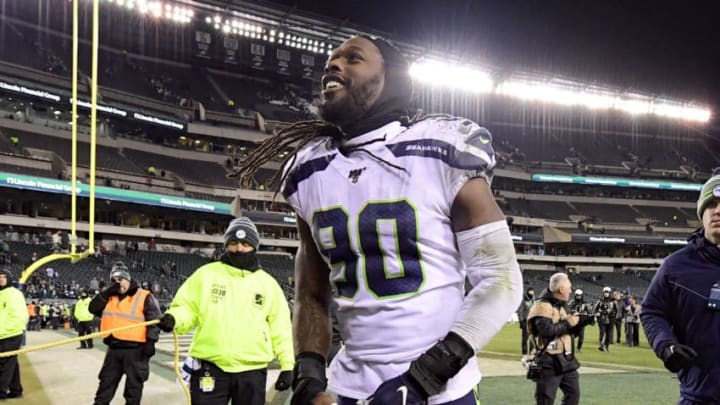 PHILADELPHIA, PENNSYLVANIA - JANUARY 05: Jadeveon Clowney #90 of the Seattle Seahawks celebrates victory after his teams win against the Philadelphia Eagles in the NFC Wild Card Playoff game at Lincoln Financial Field on January 05, 2020 in Philadelphia, Pennsylvania. (Photo by Steven Ryan/Getty Images) /
SEATTLE, WASHINGTON – DECEMBER 02: Under laser lights, Jadeveon Clowney #90 of the Seattle Seahawks is introduced before the game against the Minnesota Vikings at CenturyLink Field on December 02, 2019 in Seattle, Washington. The Seattle Seahawks won, 37-30. (Photo by Alika Jenner/Getty Images) /
Richard Bradshaw says yay:
Right now, this Baltimore Ravens defense looks ready to run with the best defenses in the league. The secondary is absolutely loaded. Between the unbelievable cornerback depth and two stud safeties, teams will struggle to throw the ball effectively.
Upfront, Baltimore added Calais Campbell and brought back Matt Judon to help rejuvenate what was a subpar pass rush in 2019. Still, the biggest weakness for the Ravens defense was their inability to effectively stop the run. Baltimore gave up a whopping 4.4 YPC in 2019, tied for 20th ranked in the league. It came back to bite them against the Tennessee Titans in the playoffs. Losing Michael Brockers didn't help their chances to fix this problem, either.
What if I told you the Ravens could kill two birds with one stone by adding Jadeveon Clowney?
Clowney is arguably the best run defending edge defender in the NFL right now. Clowney anchors his side of the line and makes it impossible to run on him. Additionally, Clowney is an accomplished pass rusher, even though it doesn't appear that way on the stat sheet. Make no mistake, however, Jadeveon Clowney is as good as it gets off the edge.
The biggest obstacle with bringing in Clowney is that he would cost quite a bit to pull in. The team would likely have to part ways with Matt Judon via trade in order to create an appropriate amount of cap space for the three-time Pro Bowler. However, it's not impossible to keep them both and keep the front-seven loaded.
The salary cap is easier to maneuver than people realize, and cap hits can be turned to bonuses and certain players could be willing to restructure their contracts for what is a Super Bowl window for Baltimore. Clowney may also be enticed by that opportunity to win a Super Bowl and come to Baltimore, Maryland on a lesser deal. There's a reason he hasn't signed a deal yet, and the Ravens may be his best shot to get paid and compete for a ring.
Just imagine having Jadeveon Clowney in the front-seven with Calias Campbell and perhaps Matt Judon. It's the makings of an elite unit; one that is championship-caliber. That's really tough for the Ravens and Eric DeCosta to pass up on.