Ebony Bird debate: Should the Ravens target Jadeveon Clowney?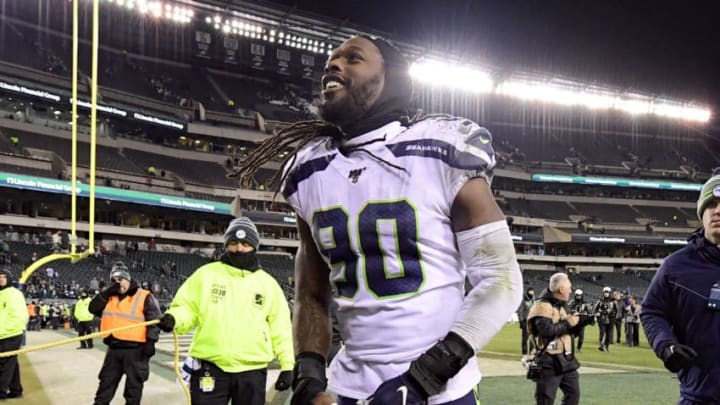 PHILADELPHIA, PENNSYLVANIA - JANUARY 05: Jadeveon Clowney #90 of the Seattle Seahawks celebrates victory after his teams win against the Philadelphia Eagles in the NFC Wild Card Playoff game at Lincoln Financial Field on January 05, 2020 in Philadelphia, Pennsylvania. (Photo by Steven Ryan/Getty Images) /
BALTIMORE, MARYLAND – JANUARY 11: Matt Judon #99 of the Baltimore Ravens with fans after the AFC Divisional Playoff game against the Tennessee Titans at M&T Bank Stadium on January 11, 2020 in Baltimore, Maryland. (Photo by Maddie Meyer/Getty Images) /
Chris Schisler says nay:
I'm going to be the Debbie Downer here. Going after Clowney isn't a practical decision for the Baltimore Ravens. The free agent market didn't do what Clowney was hoping for which has made a one or two year deal a possibility. That means if the Ravens go that route they'll take on a huge cap hit for the 2020 season. There is no way that signing Clowney will be an easy path. The Ravens should try to be more frugal with their cap space. Remember, Ronnie Stanley, Marlon Humphrey, Mark Andrews, Orlando Brown Jr. and Lamar Jackson all have big future paydays ahead of them.
Clowney and Judon would be a great pairing. However it is going to be next to impossible to keep Clowney and Judon on the same defense. The smartest thing the Ravens can do is get Judon a long-term deal and make a more practical signing. Clowney would be the biggest possible splash that Baltimore could make yet he's a player who has never played a full 16 game slate.
Clowney has never had double digit sacks which is the argument people make when talking about putting Matt Judon on the trading block. In six seasons in the NFL, Clowney has 236 tackles and 32 sacks. In four seasons, Judon has 186 tackles and 28.5 sacks. Judon has also only missed two games in his career. From a production standpoint these are two incredibly similar players. Judon happens to be the player the Ravens already know and love and he's quite frankly safer money.
Now the biggest rebuttal to this is surely going to sound something like this "Well Clowney is more explosive, I mean watch the tape." My counter to that is simple: Are you sure about that? I've said over and over again that Judon won me over this season by playing well; exceptionally well when you consider how much the Ravens asked him to do and how little help he had in the pass rushing department. If this is going to be Clowney or Judon, give me Judon. That's my unpopular opinion of the day and I'm sticking with it until the end of time.
The Ravens should look for a more practical signing to pair with Judon. Everson Griffen comes to mind, in fact I wanted him with the Ravens before it was cool. It's pretty simple. You sign a veteran that you know will produce, draft a pass rusher and give him time to develop. The best thing DeCosta can do for the 2020 season (and the future) is to stay the course. He should sign a player like Griffen or Clay Matthews and find a replacement for the spot that was going to go to Michael Brockers.
This line of thinking gives the Ravens multiple moves to make in free agency, preserves their bright future and keeps them in the class of elite contenders for a Super Bowl in the 2020 season. Clowney is a good player with huge name recognition. Judon is an underrated player who might have better overall production when it is said and done. The Ravens shouldn't go after Clowney.
It's not what many of you want to hear. I get that. If you have your heart set on seeing Clowney wear the purple and black my argument isn't going to make you all that happy. Clowney could be a great addition, it's not like I don't get the appeal of this proposed move. However, it doesn't seem all that feasible or practical. Judon managed to win me over and I bet if the Ravens stay the course, he will win you over eventually.