Baltimore Ravens stock report: Who's hot, who's not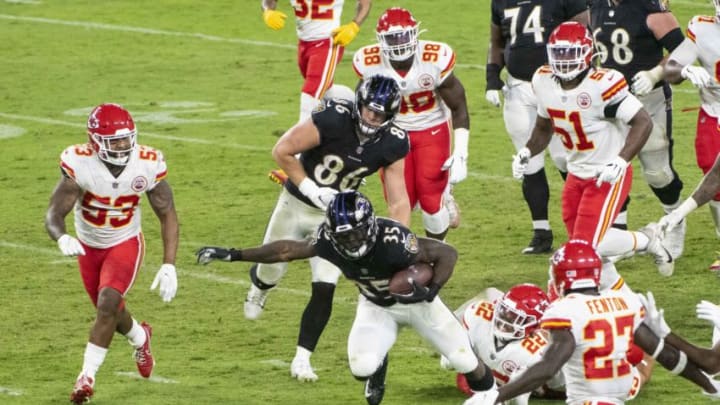 Ravens Mandatory Credit: Tommy Gilligan-USA TODAY Sports /
Sep 28, 2020; Baltimore, Maryland, USA; Baltimore Ravens wide receiver Devin Duvernay (13) runs after the catch during the first quarter Kansas City Chiefs at M&T Bank Stadium. Mandatory Credit: Tommy Gilligan-USA TODAY Sports /
After a brutal 34-20 defeat at the hands of the Kansas City Chiefs, the Baltimore Ravens look to bounce back this coming week against the Washington Football Team. Here's who's hot and who's not entering Week four.
I feel like by now we have all read and seen enough about this past Monday's game between the Baltimore Ravens and the Kansas City Chiefs. Lamar Jackson's performance has been spotlighted and many have changed their views on this seasons outlook. The game wasn't great but the team is 2-1 and has impressed. There is a long season ahead and a lot of time to take the lessons learned in this game and move forward. With that said let's begin with this weeks stock report.
Who's Hot
In a game where not much went right, the rookie third round pick out of the University of Texas looked really good in this game. He created the games biggest highlight for the Ravens and has seen his role in the offense consistently increase. This week he caught two passes and returned a kick for a touchdown. Although he didn't do much with his offensive touches, his return for a touchdown was the highlight that mattered.
On this play you see the Chiefs attempt to kick the ball high in order to get the coverage team down the field to make a big stop. The Ravens blocked this play very well from the get-go and once Duvernay got to the edge, the play was over. His speed was on full display on this play and it shows many the potential he could have in this offense.
Duvernay thus far has been used on some screens and quick passes. But his potential is so much more. The Ravens have seen in the last few games that they could use an additional down the field target. Hollywood Brown is great, but he needs help. With Duvernay he can be used on motions and his role can be vastly expanded. He can do much with his speed on sweeps, orbits, shuffle passes. He can be used to stretch the field and on stop routes. With Duvernay showing potential to be a play-maker, its time for his route tree to be expanded. After this game, Duvernay seems like a lone bright spot, in the midst of an ugly game.
Edwards this past week only got four carries but took them for 39 yards. The week before last he went for 10 carries and 79 yards. Edwards since debuting with Jackson in 2018 has been an extremely efficient, bulldozer of a ball carrier. Edwards consistently runs the ball with power and finds success late in games. Greg Roman referred to him as their closer, but in this game he was the lone bright spot of the running backs group.
Being down in the game, leaves no room for a closer, but Gus came in and did his job. These carries came during what was a brief comeback for the Ravens. For the Ravens to experience success in the future, it could benefit them by using Edwards more. For Edwards, it's about making the most of his opportunities. Edwards must look to continue to keep up his pace at this level. His long of 24 in this game show that he's more than just a downhill runner and can make you pay.
In a game that went terribly it's good to focus on a lone bright spot and hope that next week things go better. One way to go about it, is using the closer, earlier in games to wear down defenses and sustain drives. Edwards being more involved seems like it can only be a benefit. The Ravens' run game is at its best when Edwards is in and the Ravens are at their best when their running game is being efficient. Moving forward the efficient and effective Edwards should have an expanded role.