Baltimore Ravens stock report: Who's hot, who's not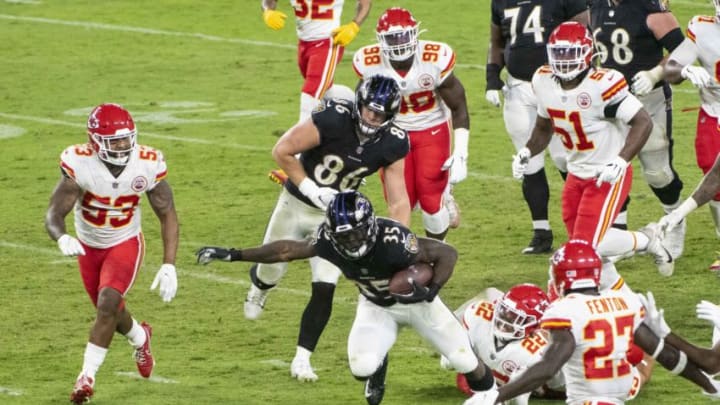 Ravens Mandatory Credit: Tommy Gilligan-USA TODAY Sports /
Sep 28, 2020; Baltimore, Maryland, USA; Baltimore Ravens quarterback Lamar Jackson (8) loss to throw during the second half against the Kansas City Chiefs at M&T Bank Stadium. Mandatory Credit: Tommy Gilligan-USA TODAY Sports /
Who's Not
Lamar Jackson
It's not fair to blame Jackson for Monday's loss. Jackson struggled, but also didn't have great pass protection or a run game that complemented the passing game. So far in Jackson's career he has struggled in the few games where he has started to lose early in the game. This game was no different than his other two encounters with the Chiefs. Unfortunately for Jackson he wasn't even able to throw for over 100 yards and quite possibly had his worst passing game of the season.
Again, not all of this is on him, the offensive line wasn't great, his receivers were dropping balls, these things he can't control. Jackson ran for 84 yards and did keep the team in the game despite the poor showing. But, if you are trying to be the second half a billion dollar NFL player, you must show up stronger than this in prime time. Most quarterbacks can't run for 84 yards in a game, but almost any of them can throw for over 100 yards given 28 attempts like Jackson was.
This may all be to say that the Chiefs and their defense are better than expected, but for this game, the reigning MVP let fans and his team down. If the Ravens would have opened up the quick game and running game it could've made throwing lanes and time easier to find. For Jackson, it's all about the bounce back. If he can put this game behind him, then he will find himself on the who's hot list after a game with the Football Team.
Mark Andrews and Marquise "Hollywood" Brown
Jackson's number one and two targets are a big reason why the offense never got going in this game. Each of them dropped passes and made it hard for the team to convert first downs by not being open. If the only issue was them being covered, then they would not be blamed at all for this loss. But neither of these two played to their potential. Both of these guys have All-Pro potential and are trusted by their quarterback. In a bad loss you can easily see how their bad play impacted the game.
Both of these targets are guys who have already found success early in the season. For these two defenses know the threat they bring and will work to eliminate them from the games. That, is in one way why the Ravens need to keep revolutionizing from what they have already done. Andrews is in on passing plays, that is known. Brown tries to get open deep, both of these guys need to do more of things they tend not to do. Brown may need to help in the middle of the field and help move the chains more. Andrews, may need to block and be in the motion role more often to help throw off defenses.
If these guys want to develop into top tier targets they may need to diversify themselves in order to find success. Next week is a good opportunity for them to get their feet back under them and bounce back. Drops cannot happen, especially on 3rd downs against playoff caliber teams. The Washington Football Team has been playing hard football. They have surprised people with their level of competitiveness.
Entering the week they're missing their top pick Chase Young, but still have a lot of talent along their defensive line. This should be a good game to get back on track and show the NFL world that these two are two very talented players and that was just one bad game, not the NFL figuring them out. On Sunday we shall see if they can make themselves available for Jackson and make some big plays.