Take-home points on the Ravens 2020 season at the bye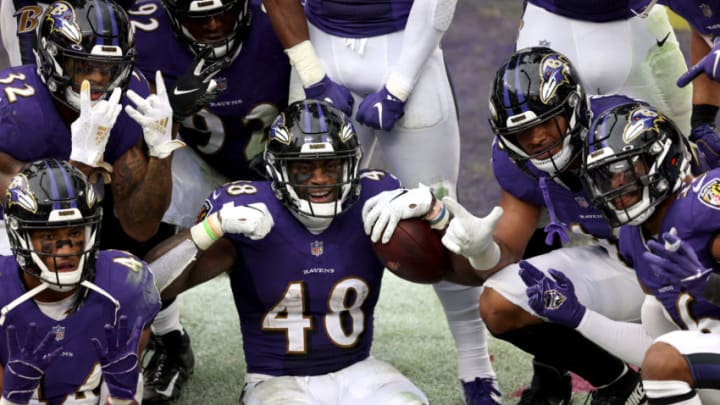 BALTIMORE, MARYLAND - OCTOBER 11: Inside linebacker Patrick Queen #48 of the Baltimore Ravens celebrates after returning a fumble for a fourth quarter touchdown against the Cincinnati Bengals at M&T Bank Stadium on October 11, 2020 in Baltimore, Maryland. (Photo by Rob Carr/Getty Images) /
Oct 18, 2020; Philadelphia, Pennsylvania, USA; Baltimore Ravens quarterback Lamar Jackson (8) gives a thumbs up to Ravens fans as he runs off the field after win against the Philadelphia Eagles at Lincoln Financial Field. Mandatory Credit: Eric Hartline-USA TODAY Sports /
Some quick thoughts on the Baltimore Ravens 2020 season to this point:
So, your Baltimore Ravens have entered the bye week with a 5-1 record, have healthy play makers across the board and just landed pass-rusher Yannick Ngakoue for two Berger Cookies and a Natty Boh.
Rejoice, Flock. There are things to get cleaned up, for sure, but there are 11 weeks left to get there, and plenty of reason to believe this team can still compete for a Super Bowl championship, regardless the never-ending stream of the-sky-is-falling rhetoric surrounding the team.
Let's take a quick-hit look on where the 2020 Ravens have been, where they sit today and where they look to be going forward.
• The Ravens are averaging 29.8 points a game on offense, good for seventh in the league. That's a perfectly-fine place to be. A different look at the raw offensive numbers show that they are 27th in yards per game on offense, and 17th in red zone efficiency. Those numbers aren't perfectly fine. But what do they mean? To me, it means there is plenty of room for improvement still, but that the team is good enough to take advantage of short fields created by the defense and special teams, and that they aren't turning the ball over.
• To that point, since we've started on offense, let's talk turnovers. The Ravens have turned over the ball five times in six games (three interceptions and two lost fumbles. Conversely, they've turned over their opponents a whopping 11 times, generating three picks and eight fumbles.
It's cliché to talk things like turnover margin anymore with all the advanced analytics around us, but it still rings true: Protect the ball, and take away the ball. The Ravens have done this as well as any team in the league.
• Lamar Jackson, last year's unanimous league MVP, is not generating the same buzz, and people are asking what's wrong with him this year. Is it the offensive line struggling? The lack of weapons? Has he regressed? Let's start with the numbers. Spread out over a full 16-game season, Jackson is on pace to throw for 3,027 yards, 27 touchdowns, and five interceptions, with a quarterback rating of 99.2, while adding 923 yards and five touchdowns on the ground.
A quarterback producing 3,950 yards, with 32 touchdowns and five interceptions is a good year, folks. You can easily consider it a great year. Is it MVP level? No. But he is not the problem. He is not a problem. He has not looked as sharp as last year, but he is still producing at a very high rate. Let's see where he is when the season ends. That's how Jackson should be judged now.