Take-home points on the Ravens 2020 season at the bye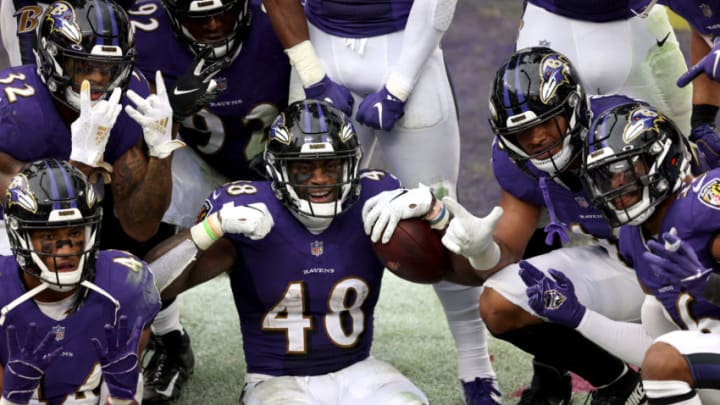 BALTIMORE, MARYLAND - OCTOBER 11: Inside linebacker Patrick Queen #48 of the Baltimore Ravens celebrates after returning a fumble for a fourth quarter touchdown against the Cincinnati Bengals at M&T Bank Stadium on October 11, 2020 in Baltimore, Maryland. (Photo by Rob Carr/Getty Images) /
BALTIMORE, MARYLAND – OCTOBER 11: Cornerback Marlon Humphrey #44 of the Baltimore Ravens celebrates after sacking quarterback Joe Burrow #9 of the Cincinnati Bengals (not pictured) in the second half at M&T Bank Stadium on October 11, 2020 in Baltimore, Maryland. (Photo by Rob Carr/Getty Images) /
Final Thoughts:
• Man, that coverage has been sticky, especially by the elite trio of cornerbacks, Marlon Humphrey, Marcus Peters and Jimmy Smith. Losing Tavon Young hurt, but that signing of Smith proved to be brilliant, as the corners have played very well. Yes, Peters has been beaten a few times, but he's also nabbed two memorable interceptions and provided some great coverage on tough receivers.
Smith might be their most underrated player this season and Humphrey — oh, Humphrey — is a star. He is great at coverage, supporting the run and blitzing from the slot, and his uncanny ability to punch away the ball is generating national coverage. He should be in discussion for Defensive Player of the Year.
• Part of the reason the corners have been so good is because safeties Chuck Clark and DeShon Elliott have largely been where they're supposed to be, allowing the corners to play with confidence. Clark is the ultimate "Glue Guy," keeping things together while rarely making glaring mistakes, and Elliott seems to be taking a bigger step each week in becoming a playmaker. They have exceeded my expectations to this point.
• Let's talk linebackers, and we should start with the first-round pick Patrick Queen. Has he sometimes struggled in space? Yeah, NFL players are really, really good, as are coaches — they have a ton of tricks against rookies. But he has also shown off his speed and physicality and is another player who seems to be improving each week. I was not super-high on the Queen pick (I actually preferred his rookie counterpart Malik Harrison leading up to the draft), but he is proving to be dangerous.
I look for him to be an even more active blitzer in the second half of the year, particularly with the solid play of Elliott and Clark behind him. LJ Fort, by the way, is such a good football player. He reminds me of Clark in that he just doesn't seem to make mistakes, but he also seems to really have a nose for making big plays, as well. I have become a huge Fort fan now and am finished underestimating what he brings to the team.
• The Ravens are starting to look familiar again in terms of loading up big bodies on the line. Brandon Williams, Derek Wolfe, Calais Campbell, Justin Madubuike, Justin Ellis and Broderick Washington can wear down offensive lines by coming at them in giant waves. They should call these guys "The Tsunamis."
Calais Campbell, by the way, is defensive player of the year for this team who is not named Marlon Humphrey, a very prestigious award that I just now invented. Think about that — you can tell your grandchildren that you witnessed the birth of this award.
• Edge just changed, didn't it? Ngakoue is immediately the Ravens best pass-rusher not named Calais Campbell (another award in the works?). Again, this defense can come at opponents in waves at edge now, with Ngakoue, Matthew Judon, Tyus Bowser (who is becoming such a good player, by the way), Pernell McPhee, Jaylon Ferguson and Jihad Ward all bringing talent and heart to the position. They will have some tough decisions and negotiations with this crew after the year, but you have to love where they are now.
• The Ravens special teams are back to being special after a less-than-stellar 2019. Justin Tucker has looked as good as ever (and was also great last year) and Sam Koch just keeps doing what he's supposed to do. Duvernay has added free yards every week with his returns, and Proche has looked decent in his punt returns. The coverage units have looked great, as well.
• Let's wrap this up with a little mention of "complimentary football." When the defense is turning teams over, the offense is keeping the balls and generating big plays, and the special teams is producing better than the opponents' special teams, you will win more games than you lose.
No, the Ravens have not been as explosive as last season — not yet, at least. But they will win a ton of games as long as all three phases produce. They are. And my guess is both the offense and defense could get better going forward.