Lock and reload: 2021 Baltimore Ravens defensive wish list 1.0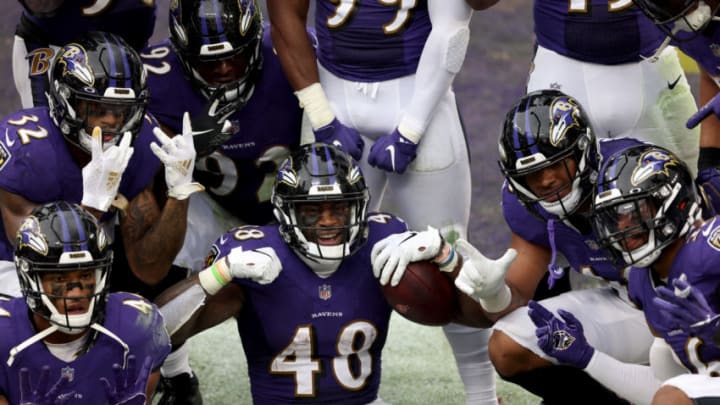 BALTIMORE, MARYLAND - OCTOBER 11: Inside linebacker Patrick Queen #48 of the Baltimore Ravens celebrates after returning a fumble for a fourth quarter touchdown against the Cincinnati Bengals at M&T Bank Stadium on October 11, 2020 in Baltimore, Maryland. (Photo by Rob Carr/Getty Images) /
Nov 1, 2020; Baltimore, Maryland, USA; Baltimore Ravens defensive end Yannick Ngakoue (91) rushes during the second half as Pittsburgh Steelers offensive tackle Alejandro Villanueva (78) blocks at M&T Bank Stadium. Mandatory Credit: Tommy Gilligan-USA TODAY Sports /
It seems all but a lock at this point that either Matt Judon or Yannick Ngakoue will be in a different uniform heading into next season. Given that we've seen an entire body of work from Judon over the last few years and know the type of production he brings, the smart play is probably to let him sign a big contract elsewhere and see what Yannick can do with a full offseason in Baltimore.
That's not to throw any disrespect towards Judon either, but we've seen what happens the vast majority of the time when the Ravens let defensive players sign for crazy money elsewhere, usually the purple birds end up looking pretty smart.
Bowser had by far his best season in Baltimore in 2020, and short of a team coming out of left field with a great offer it would be surprising if he and the Ravens didn't mutually work together to come to an agreement. His playing time, and role on the defense overall, could both increase massively if that's something both sides can accomplish this offseason.
Ferguson has shown flashes, but this is most certainly his year to prove what type of player he's going to be in this league going forward and drafting a couple of pieces to A.) Light a fire underneath him and B.) Provide options in case he doesn't live up, should also be a priority.
Quincy Roche from Miami would be a nice day 2 target for the Ravens, given the depth at pass rusher in this draft. Most years he'd probably be ranked higher, but a few issues such as his wingspan and build size have a lot of pundits hesitant. Nonetheless, he's got some serious juice coming off the ball, and being drafted right into a defense led by Wink Martindale could certainly help mask some of those deficiencies. Plus, we've had pretty good success with Miami defenders in the Charm City.
On the opposite side of that spectrum, Charles Snowden out of Virginia is a 6'6 physical specimen with an 82-inch wingspan. It would be hard for most NFL scouts to see that and not instantly get hot and bothered, and from the eye test, it appears a lot of the issues that have him lower on draft boards are mostly related to technique. There are some plays that he clearly over-pursues, at the college level it may be easier to get away with this but NFL quarterbacks are much more comfortable stepping up in the pocket. Traits like these are coachable though, and the Ravens certainly have the staff to do it.
Snowden will likely have to put on some weight to be a consistent pass-rushing force as well, but he's got every inch of the frame to build out with the right system. Granted, none of us are too thrilled with the man who leads strength and conditioning in Baltimore these days, but that's another story for another day.