Baltimore Ravens won't gain much from potential Todd Gurley addition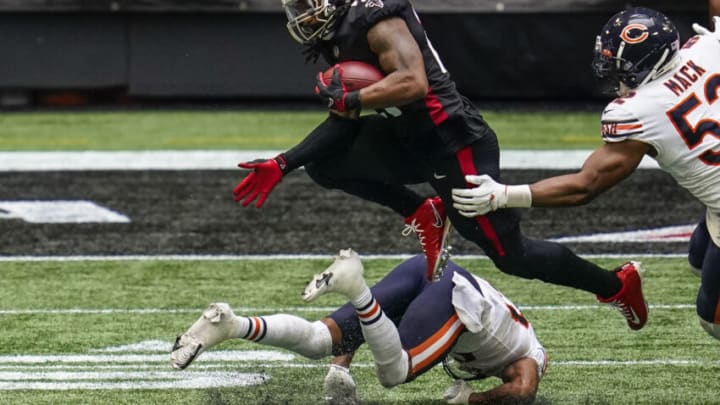 Todd Gurley (Mandatory Credit: Dale Zanine-USA TODAY Sports) /
Unless you've been living under a rock, you've, no doubt, heard about the Baltimore Ravens winning their 20th-consecutive preseason game. While that may mean more to some of you than others, the bad news is they still managed to lose at the same time.
Second-year running back J.K. Dobbins has been lost for the season with a torn ACL. He was the odds-on favorite to land in the starting role, but, in his absence, there are concerns that Lamar Jackson is the only offensive weapon that would consistently scare opposing defenses and their coordinators when Baltimore decides to run the ball.
Dobbins averaged six yards per carry in 2020. Todd Gurley is past his prime and notched 3.5 yards per attempt, but for some reason, the Ravens appear to be interested. NFL Network's Ian Rapoport reported on Monday that Gurley, still unsigned at the time of this story being published, could be a suitable option. Keep in mind the fact that there was mutual interest between he and the Ravens back in June.
Take a look:
Todd Gurley would have been perfect for the Baltimore Ravens a few years ago.
It's often been said that the running back position is the most punished in football. Todd Gurley might be one of the people that NFL pundits are thinking about when they make that statement. Six years of running headfirst into defensive linemen and linebackers has clearly taken its toll.
It wasn't that long ago that Todd Gurley was enjoying a run similar to the one that Derrick Henry is on now. A First-Team All-Pro in 2017 and in 2018, Gurley racked up three Pro Bowl nods (2015, 2017, 2018) and an NFL Offensive Player of the Year nod in 2017 while leading the NFL in rushing touchdowns for two straight seasons, 2017 and 2018.
Fast forward, and again, the punishment of carrying the ball more than 223 times for five straight seasons has Gurley looking like a shell of his former self. In 2020, he notched the lowest rushing total and the second-lowest yards-per-carry average of his career.
Had he joined the Ravens four years ago, this would have been special. Had he joined the Ravens in 2020, he would have been serviceable. If he joins Baltimore's offense now, he won't add much.
Sure, he can contribute on short-yardage, but if Baltimore is looking for the type of production that they were expecting from J.K. Dobbins, they need to look in another direction.