Ravens smart to vote against new NFL overtime proposals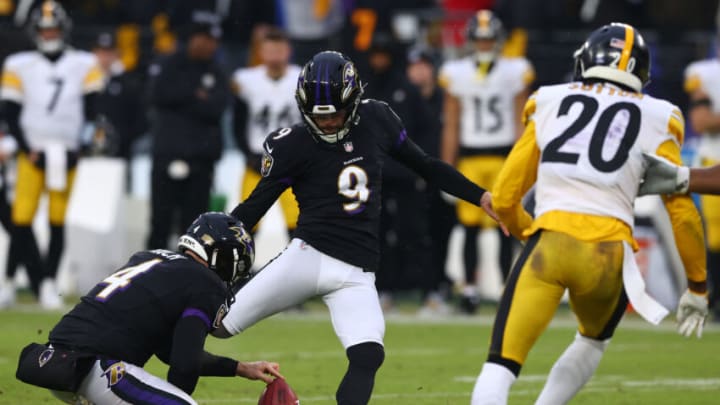 Ravens, Justin Tucker (Photo by Todd Olszewski/Getty Images) /
No team experienced worse luck than the Baltimore Ravens in 2021, who were decimated by injuries throughout the season and had nine games decided by three points or fewer.
When it comes to overtime, the Ravens rightfully want to preserve player health, and that's why they plan to reject two new proposals to be submitted for approval by the league (NFL rule changes require approval from at least 24 owners).
One proposal, set forth by the Indianapolis Colts and Philadelphia Eagles, simply states that both teams must possess the ball in overtime.
The Tennessee Titans proposed a slight modification to the current overtime rules which would require a two-point conversion after a touchdown for a team to win on its first possession.
Despite optimizing fairness, both proposals would drastically prolong regular-season games and hurt players' health and endurance in the short-term and the long-term.
The Ravens plan to reject new OT proposals, still stand by "Spot and Choose"
It should come as no surprise that Baltimore would prefer its own overtime proposal conceived more than a decade ago: Spot and Choose.
This format heavily favors more "analytical" teams and forces coaches to make a strategic decision (spot the ball or choose to play offense or defense) while considering a variety of factors (weather, opponent strengths and weaknesses, etc.).
As one of the more innovative and entertaining proposals, the Ravens have failed to get much traction behind it, and in truth, it may still be ahead of its time.
Yet the more recent overtime rule changes proposed by teams may lead to very harsh consequences, since having mandatory possessions in a given overtime period would directly translate to players getting injured more often.
The Ravens' 2021 season should serve as a cautionary tale about maintaining a healthy roster and acquiring as much depth as possible, and John Harbaugh and other coaches have already taken important steps to ensure such a catastrophe doesn't happen again.
If these new overtime proposals take effect, though, there's only so much they can do. In 2021, the Ravens played four overtime games in which they went 2-2, and if they had been forced to endure at least two possessions in each of those games, forget winning or losing — their roster would never have survived.
The Ravens likely won't be the only team pushing back on mandatory possessions, but after that 2021 Chiefs-Bills playoff matchup, many may believe the overtime rules need to change and adapt to the modern game.
The Ravens just want to increase fairness and prevent needless player injuries. Is that too much to ask?