Ravens named as prime landing spot for two free agent WRs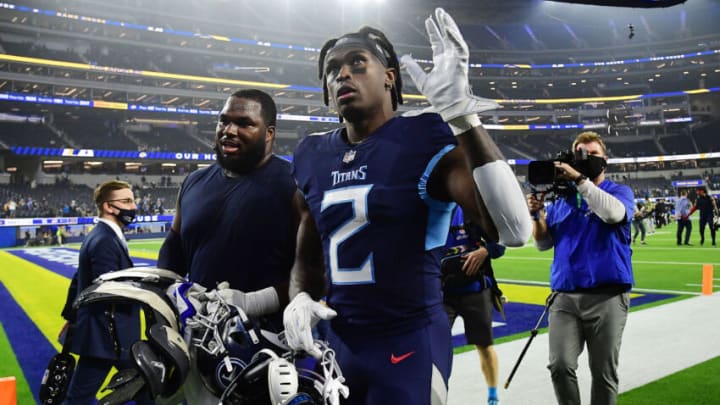 Ravens, Julio Jones Mandatory Credit: Gary A. Vasquez-USA TODAY Sports /
The Baltimore Ravens lost out on the Jarvis Landry sweepstakes this offseason, but they could still be in the running for two free-agent wideouts in 2022.
Landry was lured away by the LSU charm in New Orleans, but the Ravens need not lose hope on their veteran wide receiver search.
The top two remaining free agents at the position are arguably former All-Pro Julio Jones and former Indianapolis Colts wideout T.Y. Hilton, each of whom could offer different skillsets to Baltimore.
Currently, Baltimore seems content with its wide receiver corps, as young and scrappy as it may seem, but there's no harm in putting out feelers for a veteran like Jones or Hilton.
Bleacher Report's Mike Chiari recently listed Jones' and Hilton's top landing spots in the league and had Baltimore as a prime candidate:
""There is perhaps no team in the NFL in greater need of a veteran wideout than the Baltimore Ravens.A No. 2 wideout in Baltimore's run-heavy offense may not see a ton of targets, but quarterback Lamar Jackson needs another reliable option outside of Bateman and tight end Mark Andrews, and either Jones or Hilton would fit the bill.""
The Ravens could still target two free-agent wideouts in Julio Jones and T.Y. Hilton
Jarvis Landry did hit the Goldilocks spot of both experience and production, but Jones and Hilton have advantages as well.
Jones' injury history is the biggest cause for concern after spending just one short season in Tennessee. The 33-year-old failed to generate any chemistry or rhythm on his new team last year and is just begging for a change of scenery, perhaps in a supportive environment like Baltimore.
Hilton carries slightly less upside than Jones and missed significant time in 2021 due to injuries as well, but he fits the team culture better than any other option.
The four-time Pro Bowler has served as the team leader of the Colts for the past decade and could bring a locker room presence as powerful as that of Marlon Humphrey or Ronnie Stanley.
Other teams also in the market for a veteran wideout include the Green Bay Packers and Dallas Cowboys, and there's always the possibility that free agents re-sign with their teams.
As it stands, Baltimore hasn't displayed any interest in picking up a vet after missing out on Landry, and the team may sensibly want to pass on the injury-plagued Jones and Hilton.
The options are there if the Ravens want them, though. And if this year is truly going to be Lamar Jackson's comeback season, the team should supply him with as many potent weapons as possible.