J.K. Dobbins crucifies Ravens' play-calling after bitter playoff loss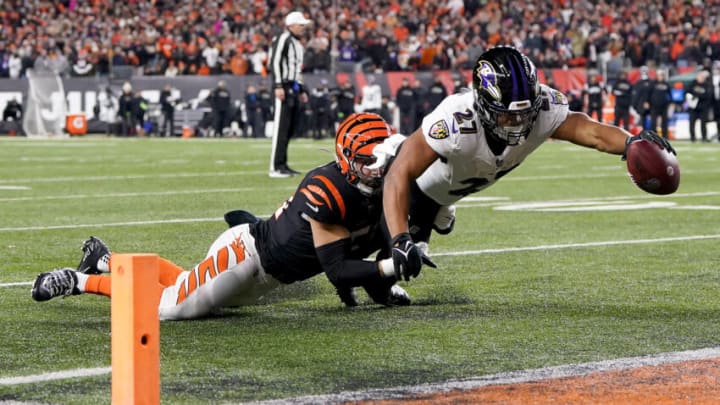 Ravens, J.K. Dobbins. (Photo by Dylan Buell/Getty Images) /
Baltimore Ravens running back J.K. Dobbins sounded off on his own team's play-calling after Sunday's Wild Card loss to the Cincinnati Bengals.
Dobbins wasn't the only one to blast the Ravens' game script as many fans took to Twitter to complain about Baltimore's play-clock management at the end of the fourth quarter.
Yet Dobbins was the only Ravens player who criticized his own team so directly and so harshly — and in his defense, he probably could have received more carries throughout the matchup considering how effective he was running all game.
Dobbins finished with 13 carries for 62 yards and four catches for 43 yards, including a Superman stretch for a touchdown in the second quarter.
Baltimore still never gave him a single carry inside the 5-yard line, and he was actually on the sidelines during the critical third-and-goal play on the Bengals' 1-yard line at the start of the fourth quarter when Huntley leapt above the pile on a designed quarterback sneak.
Huntley's gaffe ended with a monumental swing as Bengals defender Sam Hubbard recovered the fumble and took it back to the house.
Dobbins was unbelievably candid about the situation after the game, saying that Huntley never should have been in that situation in the first place.
Ravens' J.K. Dobbins lashes out at own team's play-calling decisions in Wild Card loss
Dobbins also said if the Ravens had Lamar Jackson back, they would have won the game.
Some Ravens players, like Mark Andrews, had nothing but praise for Huntley after the loss, and despite Huntley's game-changing goal line fumble, he put together a holistically solid game.
Huntley finished with a higher quarterback rating than Joe Burrow (74.0 compared to 43.7) and went 17-of-29 for 226 yards, throwing two touchdowns against one interception. He also had nine carries for 54 rushing yards.
Other than a terrible pick in the first quarter, Huntley surprisingly went toe-to-toe with Burrow, making big-play throws like his 41-yard touchdown pass to Demarcus Robinson, and prior to the fumble, he led the dominant third quarter drive that got the Ravens to Cincinnati's end zone in the first place.
Dobbins' scathing opinions on Baltimore's game script are nonetheless very real and valid. Why did the Ravens curb his workload when he was clearly the most efficient ball-carrier on the field?
Earlier in the season, injury concerns may have played a factor in Dobbins' reduced touches, but at this point in the year, Dobbins appeared fully recovered from his surgery and pounded the football at an efficient 4.8 yards per carry on Sunday.
It's never a good look when a player publicly skewers his own team's coaching decisions, even if the player is in the right. Dobbins and the Ravens will be having some talks behind closed doors after this one.