Ravens players believe Lamar Jackson is "the guy," want him back in 2023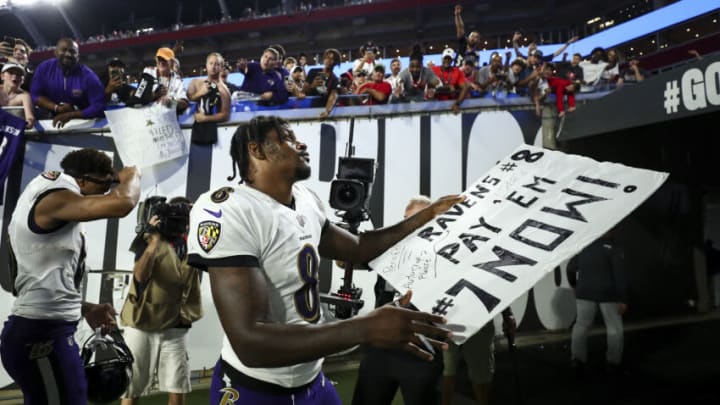 Ravens, Lamar Jackson. (Photo by Kevin Sabitus/Getty Images) /
The Baltimore Ravens' 2022 season might be over, but players are still huddling up around quarterback Lamar Jackson ahead of a potentially turbulent offseason.
Jackson's future with the Ravens franchise remains clouded in uncertainty given his recent social media post and his ongoing contract stalemate, and some NFL pundits are confident that the star quarterback will be traded this year.
Even if the Ravens and Jackson can't agree on an extension in 2023, the team can still place a franchise tag on him to buy more time for negotiations. However, most would agree that the earlier the Ravens lock down Jackson, the better.
Count Jackson's teammates as those in support of giving Jackson a long-term contract by whatever means necessary.
Defensive end Calais Campbell told reporters after the Ravens' Wild Card loss to the Cincinnati Bengals:
""You can't let a guy like him go. There's always some new, exciting kid that has potential to go out there and be great. But this is a business of 'for sures' and 'knowns,' and you know who Lamar Jackson is. I think it's in the best interest of the Ravens organization to give him a long-term contract and make him 'the guy.'""
Ravens QB Lamar Jackson has full support from his teammates
Jackson's motives were questioned heading into the postseason when he announced on Twitter that his PCL sprain was too severe and he wouldn't be able to play in the Wild Card round. He suffered a knee injury back in Week 13 and already missed five games of the Ravens' regular season.
His comments polarized the NFL world with a few former players weighing in on the topic: Michael Vick heavily criticized Jackson's mentality, but Robert Griffin III advocated for the 2018 first-round pick and claimed Jackson was doing the right thing by sitting out.
As the Ravens and Jackson look ahead to what the future might bring, it's comforting to know that Jackson's teammates still have his back.
Left tackle Ronnie Stanley echoed Campbell's comments and dismissed public criticism, believing that Jackson is "a competitor. He wants to win. This is his team, and this is his offense. The money is not the most important thing with Lamar."
Tight end Mark Andrews also expressed his hope that Jackson will come back in 2023:
""That's my guy. I have nothing but love and respect for No. 8 as a person, as a player and as a friend.""
At the end of the day, Ravens players still believe Jackson is the face of the franchise. Does the front office think the same thing?