5 Ravens players who likely played their final game with the team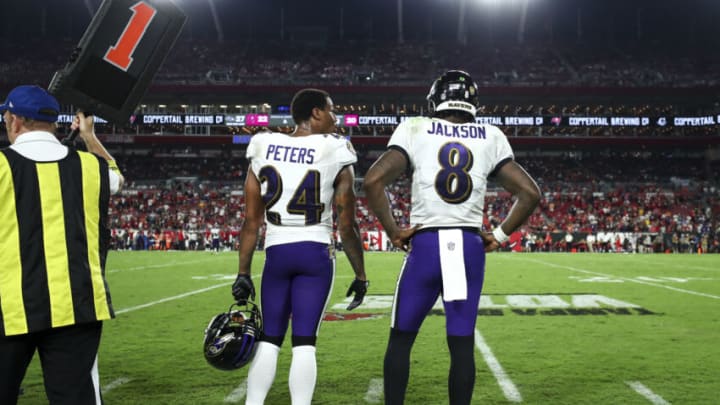 Ravens. (Photo by Kevin Sabitus/Getty Images) /
Ravens, Marcus Peters. (Photo by Kevin Sabitus/Getty Images) /
1. Marcus Peters, CB, Baltimore Ravens
As one of the Ravens' top pending free agents in 2023, Peters may be one of the toughest decisions the team has to make (other than you-know-who).
Peters is a top-12 paid cornerback in the league in terms of average annual salary ($14 million) and could be itching for a raise in 2023; however, the only way we see him staying in Baltimore is if he signs a team-friendly contract similar to how Jimmy Smith was compensated in his final years as a Raven.
The Ravens scored a bargain for Peters when they acquired him in a 2019 trade, and the veteran corner has rewarded Baltimore with three incredibly productive years.
After his 2021 season was cut short due to injury, Peters bounced back in 2022 and recorded 47 tackles, six passes defended, two forced fumbles, and one interception in 13 games.
He maintained a mostly clean bill of health this past year, which should help his case for getting an extension this offseason. Peters' numbers, while solid, still don't paint him as the All-Pro cornerback he used to be, and Baltimore could be looking to upgrade at the position and perhaps select his replacement in the 2023 NFL Draft.
His injury history is a concern. His declining production is a concern. Peters and Humphrey made quite the elite cornerback duo in 2022, but the Ravens may not be wiling to overlook those major concerns just to keep the two of them together.
Unfortunately, Peters may indeed have played his last game as Raven — if so, at least he went out with a few jabs at a hated AFC North rival.