Should Baltimore Ravens be interested in this recently released WR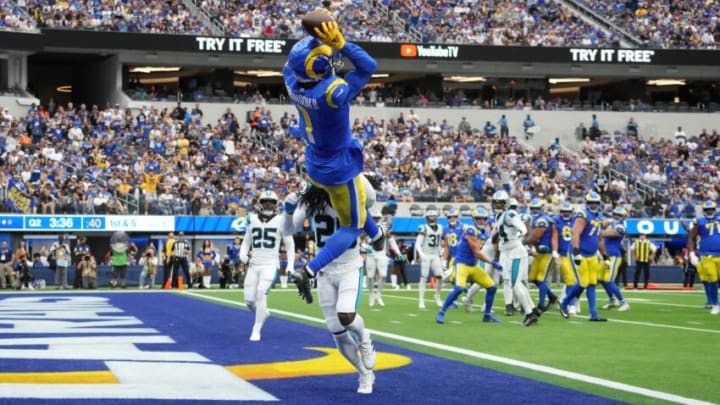 Oct 16, 2022; Inglewood, California, USA; Los Angeles Rams wide receiver Allen Robinson II (1) catches a touchdown pass in the second quarter against the Carolina Panthers at SoFi Stadium. Mandatory Credit: Kirby Lee-USA TODAY Sports /
The Los Angeles Rams plan to release Allen Robinson if they cannot find a trade partner for him. While the Baltimore Ravens do not need to trade for Robinson, this could at least be worth exploring.
Should the Baltimore Ravens have an interest in Allen Robinson?
I do not need to tell you that the Ravens' wide receiver corps has been a cast of characters in recent years. They have tried so many options and nothing seems to stick. So, the first thought is why not? Take another shot, because you cannot just give up.
Robinson is coming off of two of the worst years of his career, but at the same time, he is still better than almost any receiver on the roster not named Rashod Bateman, who is recovering from an injury.
The team has to find someone, and he may be at the right price. The Baltimore Ravens had an interest in him last season, but things did not work out. Now, they can get him much cheaper, and he will have fewer teams interested.
At the same time, isn't this just another typical Ravens move? What makes Allen Robinson different than Sammy Watkins at this point? Both of them are bouncing around, both are the same age, Allen Robinson had higher peaks, but the last two years show that he is not getting back to that.
There is just no upside in signing Robinson when the floor is also not that great, either. If the Ravens really want to fix their issues at wide receiver then they need to attack it with younger names that are about to have their best play ahead of them. They have spent too many seasons, and too much money signing names that used to be good but are probably not going to return the same value in Baltimore.
No one is denying the Baltimore Ravens need a wideout, and in his prime Allen Robinson would have been a good fit. However, he looks a step slow, and nothing points to the Ravens being the team that can pull the best back out of him. The team should have mild interest, but at the end of the day, they should pass.