3 Baltimore Ravens players who must dominate the Cleveland Browns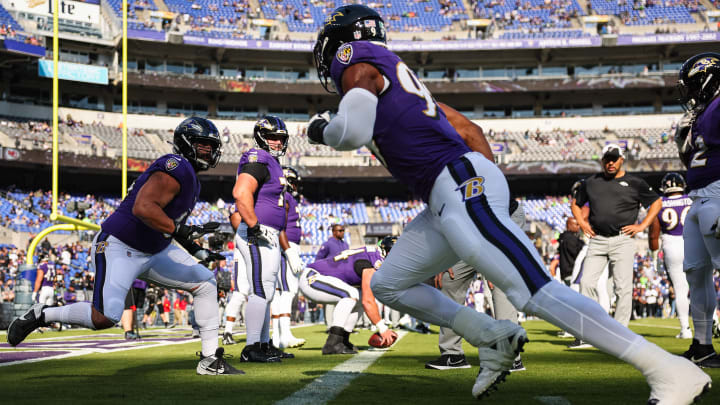 Scott Taetsch/GettyImages
Michael Owens/GettyImages
1. Roquan Smith can lead the Baltimore Ravens defense to victory
The Baltimore Ravens' defense is straight-up different since Roquan Smith has taken over. Now, it will be one of his biggest tests of the season. Just like the Browns, the Ravens have done well beating up on weaker opponents. They beat Joe Burrow in a similar time of his injury, and they beat C.J. Stroud in his first career start against an offensive line that was falling apart before the season. 
Then, the Ravens faced Gardner Minshew, Kenny Pickett, Dorian Thompson-Robinson, Malik Willis after Ryan Tannehill got hurt, Joshua Dobbs, Jared Goff, and Geno Smith. Smith and Goff run dynamic offenses, but that is a lot of backup quarterbacks otherwise. 
DeShaun Watson has not been good this season, but he will be one of the more dynamic quarterbacks the Ravens have faced, especially as a runner. This will be a good test for Roquan Smith. 
The Browns run game has not been nearly as effective since Nick Chubb went down. Jerome Ford currently has a success rate of 32.7%. For context, the Ravens rush defense is second in the NFL with a 35.8% success rate allowed. The Browns' run defense leads the NFL with a 32.4% rate, so it is like Ford is playing the best run defense in the NFL every time he runs the ball. That is against normal defenses. 
The only thing going for Ford is a breakaway run rate of 41% per PFF. This is second behind only Breece Hall for running backs with at least 80 carries. So, if you take away the explosive runs, you have the worst running back in the NFL. That is why this is on Smith. 
The Baltimore Ravens need Smith to spy on Watson and keep him contained but also ensure no explosive runs occur from Jerome Ford. If that happens, they will shut out the Browns.