Ravens Vs. Bengals: A Conversation With Stripe Hype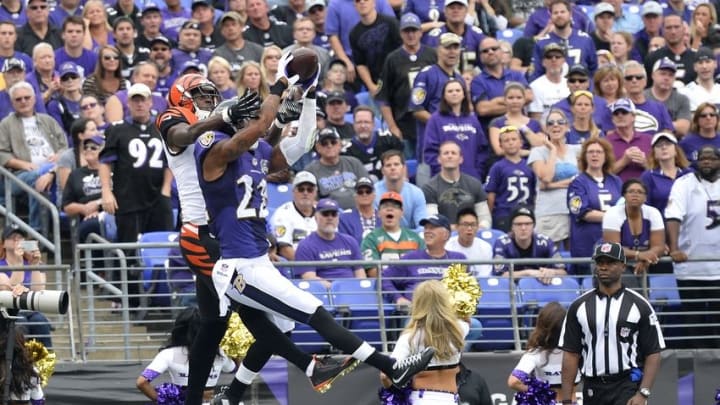 Sep 27, 2015; Baltimore, MD, USA; Baltimore Ravens cornerback Jimmy Smith (22) intercepts the ball in front of Cincinnati Bengals wide receiver A.J. Green (18) during the third quarter at M&T Bank Stadium. Mandatory Credit: Tommy Gilligan-USA TODAY Sports /
The Ravens play the Bengals this weekend. It seemed like a great chance to catch up with our friends from Stripe Hype. My FanSided colleague Matthew Wilson gave some insights on this game from the Bengals point of view.
My questions are in bold font, Matthew's answers are below each question.
1. The Bengals are 3-6-1. Have the Bengals played bad football or did they simply fall victim to a rough schedule?
It is more about the coaching at this point. No urgency in close games where they trail. The worst part about this season has been no in game adjustments, it has been stick to a game plan that hasn't worked.
Related Story: 5 Reasons For The Ravens To Be Thankful
Ken Zampese has seemingly taken away the control that Hue Jackson gave to Andy Dalton, which means Dalton's confidence is down. Dalton has not really gained the relationship with Tyler Boyd or Brandon LaFell and part of that is because he hasn't had the leadership capacity he had last season.
2. The Bengals always have had the Ravens number in recent years. Why do you think that is? Does that change this season?
They have had the team and the belief that they were the best in the AFC North in the past. This season, the Bengals are no where near those teams.
However it is still a divisional game and both these teams need wins to stay anywhere near the Steelers for the division. So although the immediate feel is no but anything can happen in divisional match ups.
3. The Bengals are pretty banged up right now. No A.J. Green or Giovani Bernard in this game. How can they overcome the injuries?
The easiest thing to say is they can't, but they need to find Tyler Eifert, Jeremy Hill, and Tyler Boyd all stepping up and doing their jobs. Andy Dalton must retake control and audible when he sees something he likes or doesn't.
The coaches need to coach with both urgency and keep out of their players way when needed. Most importantly, the defense needs to step up like they have the past two weeks and keep this team in the game.
Looking at the Match up:
4. What is the biggest strength of the Bengals. How can it hurt the Ravens?
The defense, although have struggles early, is still the biggest strength. They kept the Bengals in the Giants game and Bills games. if the Bengals are leading or within striking distance, the credit will most likely be to them.
Next: Ravens Vs. Bengals: The Fantasy Football Preview
5. What is the Bengals biggest weakness? How can the Ravens exploit it?
The greatest weakness is the coaching. No in-game or halftime adjustments, they have only one game plan and nothing to show for it to this point.
6. Give me a prediction:
Just because I don't want the Ravens to win and the Bengals probably won't. Tie 17-17