Interview With Ravens Play-By-Play Announcer Gerry Sandusky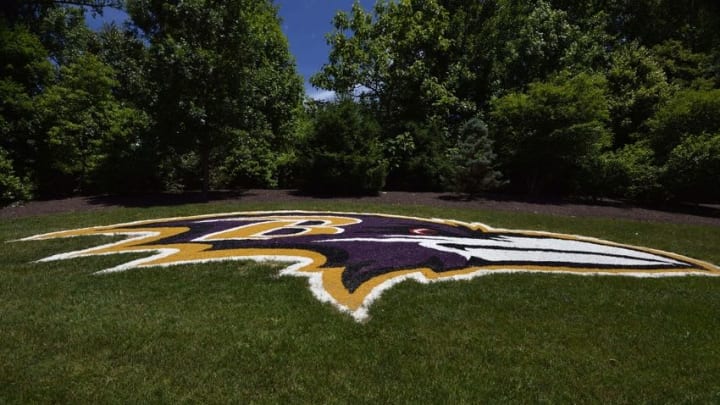 Jun 14, 2016; Baltimore, MD, USA; A general view of the Baltimore Ravens logo painted on the hill outside the Under Armour Performance Center prior to the start of mini camp. Mandatory Credit: Tommy Gilligan-USA TODAY Sports /
I ask play-by-play announcer Gerry Sandusky about his experiences as a radio broadcaster for the Ravens
If you know Ravens football, then you know Gerry Sandusky. The 1983 Towson University graduate joined WBAL-TV in 1988 and has spent over 30 years in the media business. Since 2006, he has been the play-by-play radio broadcaster for the Baltimore Ravens.
More from Ebony Bird
I have grown up listening to his voice on the radio whether it has been at home or on a long car ride.  There is certainly not many in the business that do it like he does. The famous catchphrase "The hay is in the barn" is always exclaimed out of Sandusky's voice after the Baltimore Ravens secure a win. You breath a sigh of relief when you hear it and you know that the Ravens have won.
I was fortunate enough to get a hold of Gerry and ask him some questions about his experience as the voice of the Ravens.
My questions are in bold, his answers follow below.
1. You have worked as the Play-By-Play voice of the Baltimore Ravens on WBAL Radio since 2006, what has that experience been like?
It's been the stuff of dreams come true.
My father coached in the NFL and I grew up around the league. I've always wanted to be an NFL broadcaster. Each season, each game presents the opportunity and challenge of improving my skills. I really enjoy that. I also enjoy the amazing connection I have developed with listeners over the years. I take that very seriously. I consider it a stewardship to do the best I can in this role for however long I am fortunate enough to have it.
2. In 2014, you authored your first book "Forgotten Sundays". Could you tell me a little bit about it and your relationship with your father before he passed away?
Forgotten Sundays is a coming of age story about father-son relationships. I grew up on the sidelines of the NFL. This book is about all of the things you don't see when  you're watching a football game, the things that impact the lives of men like my father who made their living in the NFL. It's about how men teach boys to become men and how few words are involved in the most powerful lessons.
I had a great relationship with my dad. As I child I feared him. He was larger than life. As a man I respected him for all he endured and accomplished, for his beliefs, his faith, his commitment to his family, his enduring sense that you did the right thing not for a reward but because it was the right thing. He was a special man, a man I miss a great deal, but a man I carry with me. I wrote that book to honor his life and to honor the age old story of one generation teaching another about the passage into manhood.
3. The Ravens currently sit at 6-5 and are atop of the AFC North, how do you think their chances look the rest of the season?
Their chances look solid because they have such a strong defense and special teams units. Their offense is the wild card. If the offense can become productive then they can beat Miami, Philly, and either Pittsburgh or Cincinnati.
I think it will be hard for them to beat New England and Pittsburgh in Pittsburgh on Xmas day. As long as the Steelers don't catch fire and run the table, a 9-7 record could get the Ravens into the playoffs.
4. What is your favorite Ravens game that you have ever called?
The AFC Divisional Playoff Game in Denver in 2012.
5. I know you are well known for your catchphrase "The hay is in the barn". How did that come about?
I wrote a blog about that. Here's the link: http://gerrysandusky.com/hays-barn/
Ravens fans are very lucky to have Sandusky as a broadcaster. Hopefully he will be around to call many more Ravens wins and hopefully another Super-Bowl.
Next: Baltimore Cannot Take Red Hot Dolphins Lightly
You can find Gerry on WBAL Radio 1980 AM and 98 Rock on Sundays.