Baltimore Ravens: DeShon Elliott the defense's ultimate X-Factor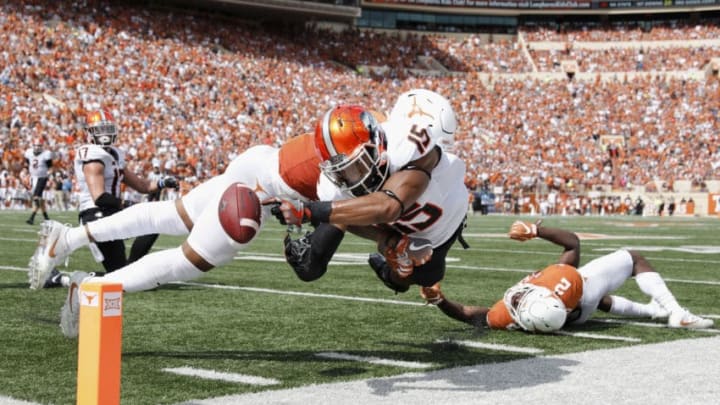 AUSTIN, TX - OCTOBER 21: DeShon Elliott #4 of the Texas Longhorns hits Chris Lacy #15 of the Oklahoma State Cowboys at the goal line forcing a fumble in the fourth quarter at Darrell K Royal-Texas Memorial Stadium on October 21, 2017 in Austin, Texas. (Photo by Tim Warner/Getty Images) /
In a defensive secondary featuring guys like Earl Thomas, Marlon Humphrey, and Tony Jefferson, it's DeShon Elliott who is the unit's true X-Factor for 2019.
Nine interceptions, three forced fumbles, three fumble recoveries, and two touchdowns in 26 starts… No, this isn't a stat line for Earl Thomas. Rather, it's the stat line for another former University of Texas Longhorns safety, DeShon Elliott.
More from Ebony Bird
While far from being the most productive player in college football, Elliott got hotter and hotter with each passing season before electing to move on to the NFL. Unfortunately, Elliott missed his entire rookie season thanks to a fractured forearm, stunting his growth from college to the pros.
Now, DeShon Elliott enter 2019 fully healthy with quite a bit growing hype around the 22-year old safety. I'm here to tell you that the hype is warranted, not because he's some elite level talent or that he'll be starting 16 games. No, the hype is warranted because Elliott is going to be placed in positions to succeed.
When you have the turnover skills that DeShon Elliott possesses, you're bound to find some kind of use for him on the field. What he becomes now is a secret weapon. He's the guy you put on the field for special packages or when you need a turnover.
Think of him in an Anthony Levine Sr. type role. Right now, Levine Sr. is a jack-of-all-trades on defense, as he can line up at linebacker and safety while remaining a strong tackler and above average zone defender. Elliott can step into a similar role and eventually replace Levine once he's gone. This is the ideal future for DeShon Elliot, who will spend time learning how to one day step into Levine's shoes.
Once Elliott masters this, he'll be an all-purpose defender who will be unpredictable and hard to game plan against. But until then, the Baltimore Ravens will have to "settle" for a play-maker who is a magnet to the football and isn't afraid to hit.
In DeShon Elliott, the Ravens have a player who can fit multiple roles on defense and wreck havoc. The best part about Elliott is that while he's far from ready for a starting gig, he's more than ample enough to be a splash player and big-impact guy for the defense. In every sense of the word, DeShon Elliott is a massive X-Factor for the Baltimore Ravens' defense in 2019.