Baltimore Ravens: 3 game balls win over Cleveland Browns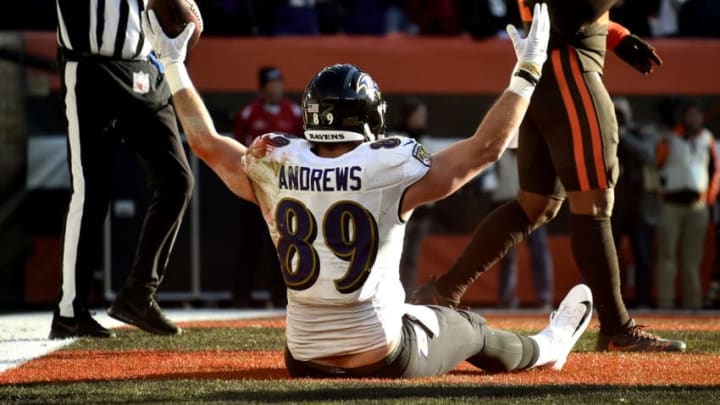 CLEVELAND, OHIO - DECEMBER 22: Mark Andrews #89 of the Baltimore Ravens celebrates after scoring a touchdown against the Cleveland Browns during the second quarter in the game at FirstEnergy Stadium on December 22, 2019 in Cleveland, Ohio. (Photo by Jason Miller/Getty Images) /
CLEVELAND, OHIO – DECEMBER 22: Mark Andrews #89 of the Baltimore Ravens celebrates after scoring a touchdown against the Cleveland Browns during the second quarter in the game at FirstEnergy Stadium on December 22, 2019 in Cleveland, Ohio. (Photo by Jason Miller/Getty Images) /
The Baltimore Ravens were able to take down the Cleveland Browns. Here are three players who deserve a game ball for their performance:
1. Mark Andrews
Lamar Jackson always gives credit to his teammates so in that spirit, let's start with his favorite receiver this week. Mark Andrews has become an elite tight end and that was evident by how he changed the game. The Ravens went into halftime with a 14-6 lead because Andrews got two touchdown receptions in the last two minutes of the half.
Andrews got his first touchdown on a blown coverage, but his athleticism was really on display. The next touchdown was a display of how he can go up and get the football in the end zone. Jackson put it where only his target could get the football, yet not every target is going to come away with that football. In a very short amount of time, Andrews showed off the traits that make him a Pro Bowler. He's a good route runner and a match up nightmare with a big catch radius.
Andrews had six receptions for 93 yards and the two all important touchdowns. He was one of the biggest play-makers of the day and he was the oxygen to the Ravens passing attack. Jackson needed a target to step up and make a few big plays. In this offense it's only natural that it should come from the tight end position. This was a signature Mark Andrews game.