What the Baltimore Ravens need out of their wide receivers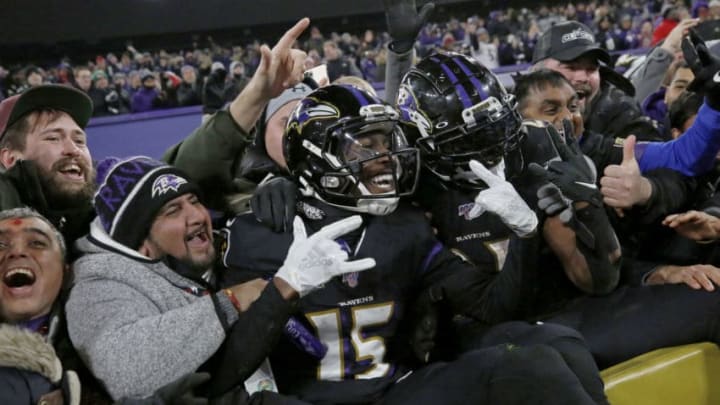 BALTIMORE, MARYLAND - DECEMBER 12: Wide receiver Marquise Brown #15 of the Baltimore Ravens and running back Mark Ingram #21 celebrate after a touchdown during the third quarter against the New York Jets at M&T Bank Stadium on December 12, 2019 in Baltimore, Maryland. (Photo by Todd Olszewski/Getty Images) /
What do the Baltimore Ravens need out of their receivers this year?
There seems to be an idea that the Baltimore Ravens don't really need a lot from the wide receiver position. Lamar Jackson is an MVP, who just makes things happen. Hayden Hurst may be gone but the Ravens still have a ton of running backs, and Mark Andrews is an elite tight end. Yeah, the purple and black still need production from their receivers. What does that production have to look like?
The first thing is that Marquise Brown has to step up. The Ravens need more than 46 receptions out of him in the 2020 season. Baltimore lost 30 receptions from last season when they shipped Hurst to the Atlanta Falcons. The tight end group probably can't recreate their 125 catches from a year ago. The Ravens need to get more work out to the wide receivers and that has to start with Brown.
Brown, who should reach full speed for the first time in his NFL career next year, has to have at least 60 receptions. He averaged 12.7 yards per grab last year so that means he needs to have 762 yards. Brown had an acceptable number of scores with seven touchdowns. A fully healthy Hollywood Brown needs to be one of the true difference making receivers in the NFL.
In this offense that may not come in the form of 100 catches and 1,200 receiving yards. Brown just needs to be an always present threat that defenses have to account for. He needs to be a consistent play-maker and the go to weapon for Jackson. Brown can't just have big games in 2020; as the number one receiver he has to have a big performance on a weekly basis.
The Ravens need a young receiver to step in and be the second fiddle at the receiver position. It can be Miles Boykin, Devin Duvernay or even James Proche. It doesn't matter who steps up (Remember Andrews was a third round pick and he became the guy over Hurst), somebody just has to step up.
More from Ebony Bird
The Ravens need this number two receiver to replace the 30 receptions that Hurst had last year. That's just a starting point, exceeding expectations is always encouraged when we're talking about production. Willie Snead is going anywhere. He's good for 30-40 receptions as a solid veteran contributor.
So that's the math the Ravens need to work on. They need at least 60 receptions from Brown, 30 from a young receiver to be named later, and 30 from Snead. That's 120 receptions from the receiver position before we even get to the fourth, fifth and sixth receivers on the depth chart. Last year the Ravens top three wide receivers (Brown, Snead and Seth Roberts) totaled 98 receptions.
If the Ravens can get 120 grabs from their top three receivers and another 60-80 from Andrews the main characters of the passing game are set. Brown will be the leading receiver. If you had to bet on any of the young receivers to be a 30 catch man it would probably be Duvernay. If the Ravens can get 20 receptions out of Boykin and 10-15 out of Proche that would be a huge win.
It's important to remember that the Ravens are a run first offense with four awesome running backs. The receiving group can give the team exactly what it needs and still not have monster numbers to brag about. The Ravens rushed for 3,296 yards last season, which was  a single season record in the NFL. Baltimore will use a similar approach in 2020.
It's very hard to project what any team will get out of a rookie receiver. Duvernay and Proche both have to prove themselves. Either player could reasonably exceed or perform below the hoped outcomes.  It's also very hard to figure out what Boykin will provide in his second season. In year one, Boykin had just 13 receptions for 198 yards and three touchdowns. He has potential, but clearly wasn't quite ready last year. A big jump from Boykin would boost the expected projections for the receivers.
The key is that the Ravens get at least 120 receptions out of their top three wide receivers. Adding that kind of production from their main three receivers to the numbers Andrews, Nick Boyle and the running backs put up will keep the Baltimore offense booming in Jackson's second full year as the starting quarterback.