Baltimore Ravens Q&A: Who starts at right guard and more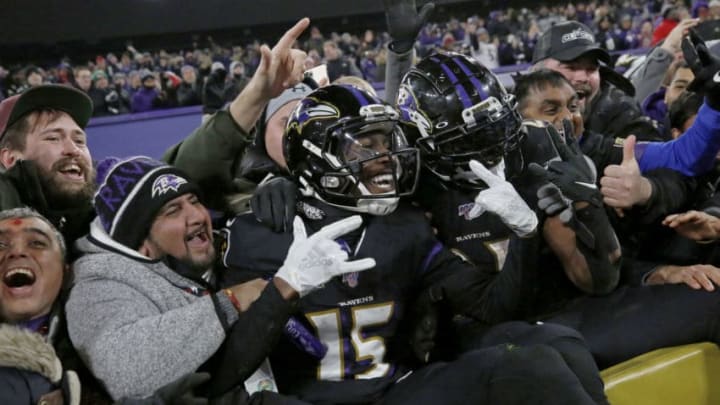 BALTIMORE, MARYLAND - DECEMBER 12: Wide receiver Marquise Brown #15 of the Baltimore Ravens and running back Mark Ingram #21 celebrate after a touchdown during the third quarter against the New York Jets at M&T Bank Stadium on December 12, 2019 in Baltimore, Maryland. (Photo by Todd Olszewski/Getty Images) /
DALLAS, TEXAS – NOVEMBER 30: James Proche #3 of the Southern Methodist Mustangs at Gerald J. Ford Stadium on November 30, 2019 in Dallas, Texas. (Photo by Ronald Martinez/Getty Images) /
Talking about potential moves and late round draft picks:
@abjohnson52 asks: Do you think any free agent edge rushers will come in on the cheap and do you think a trade for a veteran wide receiver will happen?
I am still very intrigued by the possibility of Everson Griffen. Bringing back Pernell McPhee made this a little less likely. I never thought that signing Jadeveon Clowney was all that achievable. The Ravens don't have a ton of cap space to work with, and it doesn't make sense for the Ravens to over commit to either player.
If the Ravens could get Griffen on a reasonable one or two year deal, I'd take that in a heartbeat. Now that the Ravens have McPhee they would be able to have Griffen as a specialized pass rushing weapon, rather than making him fit Martindale's 3-4 scheme. I would love it for the Ravens yet I don't really see it happening. They invested in pass rush by bringing Judon back on the franchise tag and signing Calais Campbell. They're done there most likely.
More from Ebony Bird
At wide receiver, it's hard to see a trade. There's a player the Ravens are going to go for. I hate to give the boring answer, yet I really do think the Ravens are very close to being set for the season. I also see COVID19 being a factor that could hamper trades. Everything is a little harder right now. I think the Ravens know what they have in Marquise Brown and Willie Snead. I also think they believe they can find production out of a group of young receivers that includes Miles Boykin and Devin Duvernay. A trade sounds more fun. It's not happening though, in my estimation.
@BishopFreeman52 asks: What are your thoughts on the late round rookies and the undrafted free agents and their potential roles in 2020?
Answer: James Proche is going to have a real shot at being the starting punt returner. It wouldn't take an awful lot to take De'Anthony Thomas's job. For more on that topic check out my article about it. Because he is such a good tackler and also a high effort player, Geno Stone will be a productive special teams player. So that takes care of the sixth and seventh round picks.
One undrafted free agent that I think could make the team is actually from last year. Otaro Alaka is the most promising undrafted free agent the Ravens have. He wasn't a star at Texas A&M however he had some strong production and that's an SEC school. I like his potential a lot. I think he could be a young Jameel McClain and be one of the hardest workers on special teams.
For this season's undrafted free agents Jacob Breeland has a chance to be the third tight end. With Hayden Hurst out of the picture he has a strong shot to get on the field. All it takes is a little chemistry with Lamar Jackson and some better than expected blocking and he'll get some playing time. I think Tyler Huntley is a project the Ravens are excited about but a preseason would have helped him in a huge way. I think these are the most notable names. A lot of the other players needed preseason football and the roster is stacked at a lot of positions.
Ebony Bird Contributor Darin McCann @DarinMcann asks: How do those Ravens nickel and dime packages look this season, with Tavon back and Jimmy playing more of a hybrid DB role?
Answer: Darin, my friend, this is going to be fun. Not only does Don Martindale get to work with Tavon Young and Jimmy Smith but he also has more athletic linebackers, more pass rush from the defensive line and probably a healthy DeShon Elliott. Iman Marshall figures into this as well. I think Jimmy Smith will continue to do what he's good at. I think he's a cornerback you line up against a player you want to stop and ask him to go to work.
The fun thing is that with Marlon Humphrey and Marcus Peters, Smith is just one of three players who can do this. I actually see Young being the wild card, the floater that you have to watch out for. I think he's the one Martindale is going to send on blitzes. I think he's the play-maker who adds to the interception totals. Can you imagine trying to pass against a secondary equipped with two All-Pro cornerbacks, Smith, Young, Earl Thomas and Chuck Clark?
So then you have Derek Wolfe, Justin Madubuike and Calais Campbell pinning their ears back and going after the quarterback? Then you have Patrick Queen flying all over the field? The pass defense for the Ravens has a chance to be so good. You have three cornerbacks who can shut things down, two good safeties, and a three man defensive line that can generate pressure on the quarterback without the blitz. How will it look? It will look like wins on the schedule.
@Bij_Sadoughi asks: Do you think there will be a full NFL season? What will this season look like with any changes?
Answer: I think we'll have the season. I think we'll get in all the games. If we live in a world where Disney World can open in a state that is experiencing a lot of pandemic related problems do you think 32 owners are going to willingly say goodbye to revenue earning games? The NFL owners are already set to lose a lot of revenue this season. The only way to keep things going as business as usual is to get through these rough days with games.
Here's what I think is going to happen. Testing is going to be a daily ritual for the teams. There will be players who miss games because they have to be quarantined. That's almost a promise at this point. It's going to be like concussion protocol. It's going to be taken very seriously, because the legal and league image ramifications of not taking it seriously are too troublesome. We're probably not going to get fans in the stands. Even if some teams have fans in their stadiums, some teams may not be legally allowed to admit spectators. It's going to be a constant headline making mess, but I think the season will happen. We're always going to remember it, that's for sure.