Why Miles Boykin has a huge opportunity to become a starter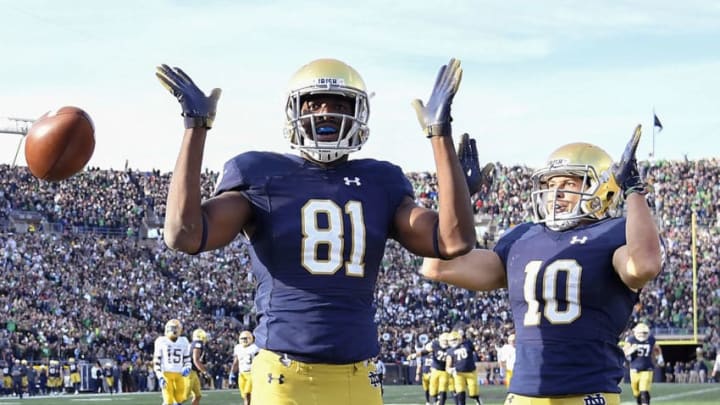 SOUTH BEND, IN - OCTOBER 13: Miles Boykin #81 of the Notre Dame Fighting Irish reacts with Chris Finke #10 after scoring the touchdown to take the lead against the Pittsburgh Panthers in the second half at Notre Dame Stadium on October 13, 2018 in South Bend, Indiana. (Photo by Quinn Harris/Getty Images) /
Miles Boykin has a huge opportunity to become a starter for the Baltimore Ravens:
Miles Boykin may be one of two rookie wide receivers that become starters for the Baltimore Ravens, right away. The Ravens wide receiver position still has a lot to figure out. Marquise Brown and Willie Snead are the main two targets for Lamar Jackson at the wide receiver position. Boykin has every chance to make it a main trio instead of a duo.
The Ravens have a bunch of receivers that haven't done much in the NFL. It wouldn't be hard to believe if Boykin proved to be one of the most talented receivers Baltimore has. The Ravens are going to have to rely on more receivers than just Brown and Snead.
Jordan Lasley and Jaleel Scott are heading into their second seasons but for all intents and purposes they are basically rookies. Lasley has shown to be a decent route runner and a good athlete, yet his hands are questionable at best. Scott hasn't shown much of anything so far.
Chris Moore has been the subject of much talk this offseason. One thing that pundits and fans have pointed to in justifying a breakout year for Moore is that there will be plenty of opportunity for him. Moore's best season has gotten him 19 receptions. The idea that Moore is suddenly going to have a great season deserves at least a little skepticism.
More from Ebony Bird
Seth Roberts could become one of the Ravens main guys at the position. Roberts has had four straight seasons with over 30 receptions and has 13 touchdowns in his career. Roberts not only has the ability to make plays, he has actually made them. Roberts could realistically have 30-50 receptions, 300-500 yards and two-five touchdowns. That would be solid production for a number three receiver.
The only player Boykin has to edge out to become one of the Ravens top three receivers is Roberts. Boykin just has to impress in training camp and look good during the preseason. He doesn't have to be a superstar to get the Ravens more excited about him than they are about Roberts.
It would certainly be unconventional for the Ravens to have two rookies essentially be starting wide receivers. John Harbaugh does have a tendency to make rookies work a little extra to earn playing time. That being said, the best players are going to end up on the field. Boykin is a big bodied target with more than decent speed. If Boykin is ready to produce he should get the reps on the field.
Playing Boykin early and often could have huge benefits. Boykin is going to show strides the more experience and confidence he gains. Brown is going to have every chance to prove he is an elite play-maker. Snead is going to be the consistent and reliable target that Jackson needs. There is no reason Boykin can't earn a big spot in the offense.