Under the radar Baltimore Ravens to watch against Packers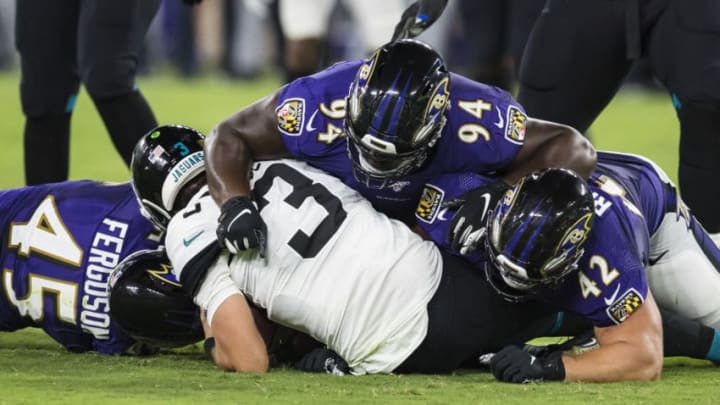 BALTIMORE, MD - AUGUST 08: Tanner Lee #3 of the Jacksonville Jaguars is sacked by Patrick Ricard #42 of the Baltimore Ravens during the second half of a preseason game at M&T Bank Stadium on August 08, 2019 in Baltimore, Maryland. (Photo by Scott Taetsch/Getty Images) /
The Baltimore Ravens have some players under the radar that you really have to pay some attention:
For the Baltimore Ravens, the preseason isn't about the starters and it isn't about the players who typically shine the brightest under the lights. It's about filling out the 53 man roster. With that in mind, let's take a look at what the Ravens who you probably won't be talking about when you walk into M&T Bank Stadium or turn on the TV tonight.
We're going to start with players who need to show that they have some special teams prowess. These players don't have access to starting jobs on offense and defense, but special teams is where they can make a big impact.
Justin Bethel: Bethel was one of the Ravens quieter free agency acquisitions this year. Bethel had a ton of great special teams plays under his belt with the Atlanta Falcons. The Ravens may have found a new do it all special teams ace. This is his path to a roster spot and he has to show up in a big way.
Iman Marshall: The long line of defensive backs in front of Marshall screams "Do something on special teams." There are two things that work for Marshall on special teams. He is a sure tackler in the open field and he has really good speed.
Secondly we're going to look at the defensive front. Everybody is focused on the outside linebackers. There are several defensive linemen that have a chance to impress against the Packers:
Daylon Mack: Gerald Willis was an undrafted free agent and he seems to get more attention the Daylon Mack, who was drafted in the fifth round. Mack has a chance to be the immovable object up front for the Ravens, Mack looks like a young Brandon Williams so we should probably pay attention to him tonight.
Zach Sieler: This is a player who needs to show something this preseason. He has the freakish size and length to make him a force up front. He has to start making an impact for the defensive line because he has the physical traits to get the job done.
Finally we have to look at players stuck behind a herd of talent at several areas of the depth chart. These players have an uphill battle for a roster spot, yet they are turning heads:
Bennett Jackson: He may have put himself on the radar last week, but he has to be included on this list. Jackson is a safety and he's stuck behind a handful of impressive players. On the first depth chart for the Ravens he was listed as the third string free safety; keep in mind that three of the four strong safeties on the roster have made an impact in regular season games. Jackson is an impressive long-shot, but he's a long shot.
De'Lance Turner: You almost have to feel bad for De'Lance Turner. If it weren't for Justice Hill coming to town, he may have a chance to make this team as the fourth running back. Turner is fast and if he has daylight he may not be caught.
Tyler Ervin: Ervin has a chance only because he is a potential return specialist. Ervin and Turner have a lot in common and speed is at the top of the list. If Ervin gets a chance to return a kick or two, he could make a name for himself.