How the Baltimore Ravens exposed the New England Patriots on SNF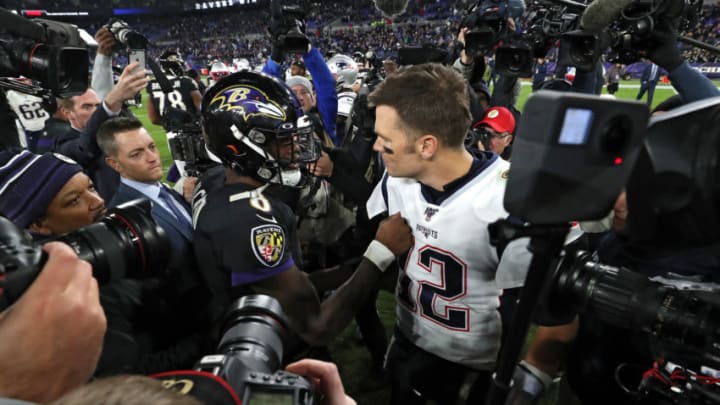 Lamar Jackson, Ravens (Photo by Todd Olszewski/Getty Images) /
The previously undefeated New England Patriots got smacked by the Baltimore Ravens on SNF. Here's how the latter was able to do it.
If you weren't in front of a TV Sunday night, then you missed out on what could have been the game of the year in the NFL thus far. The Baltimore Ravens were underdogs going into this matchup against the then-undefeated New England Patriots.
Most teams don't like to have the "underdog" title, but the Ravens seem to relish it. In a game where every level of your game plan is going to be tested, this Baltimore team came in prepared and hungry. They sent a message to the rest of the league with this statement victory.
Facing Tom Brady and Bill Belichick, the greatest to do it at their respective jobs is never an easy task. You usually need to play a perfect football game in order to survive the week with a win. Those watching would agree that the Ravens played far from perfect football this Sunday, with key fumbles from Cyrus Jones and Mark Ingram. However, those mistakes did not seem to matter when the second half rolled around. This was the Ravens game to win and they did it in an extremely fashionable manner.
From the get-go the Ravens were HOT. The game went off to a perfect start as Baltimore lead 7-0 after an opening drive score followed by a defensive three and out. The fans created a playoff-like atmosphere and the players fed off that energy, ending the first quarter up 10-0. Lamar Jackson was running the run-pass option to perfection as Patriot defenders were left guessing as to who would end up with the ball.
As mentioned before, this game was still far from perfect on both sides of the ball for the Ravens. Two second-quarter turnovers brought New England right back into the game as halftime came around, it was 17-13 Ravens.